Vancouver Chinese Music Ensemble
PRESERVE HERITAGE, SEEK INNOVATION // 承襲傳統、追求創新

'We have no idea why this hasn't been done before, but we're glad the Orchid Ensemble's Lan Tung has organized this long-overdue festival: her eclectic interests will ensure an eye-opening look at the very wide world of "Chinese music".' – Georgia Straight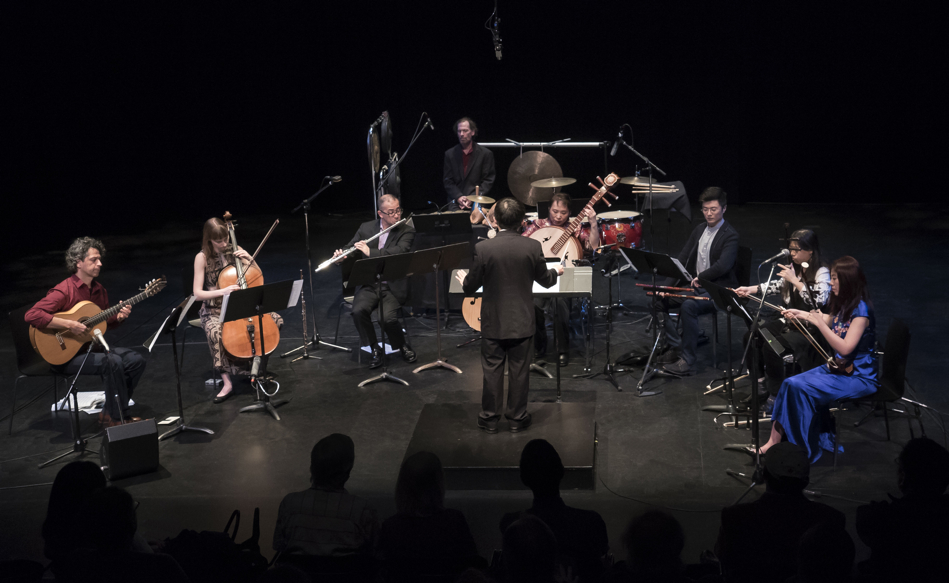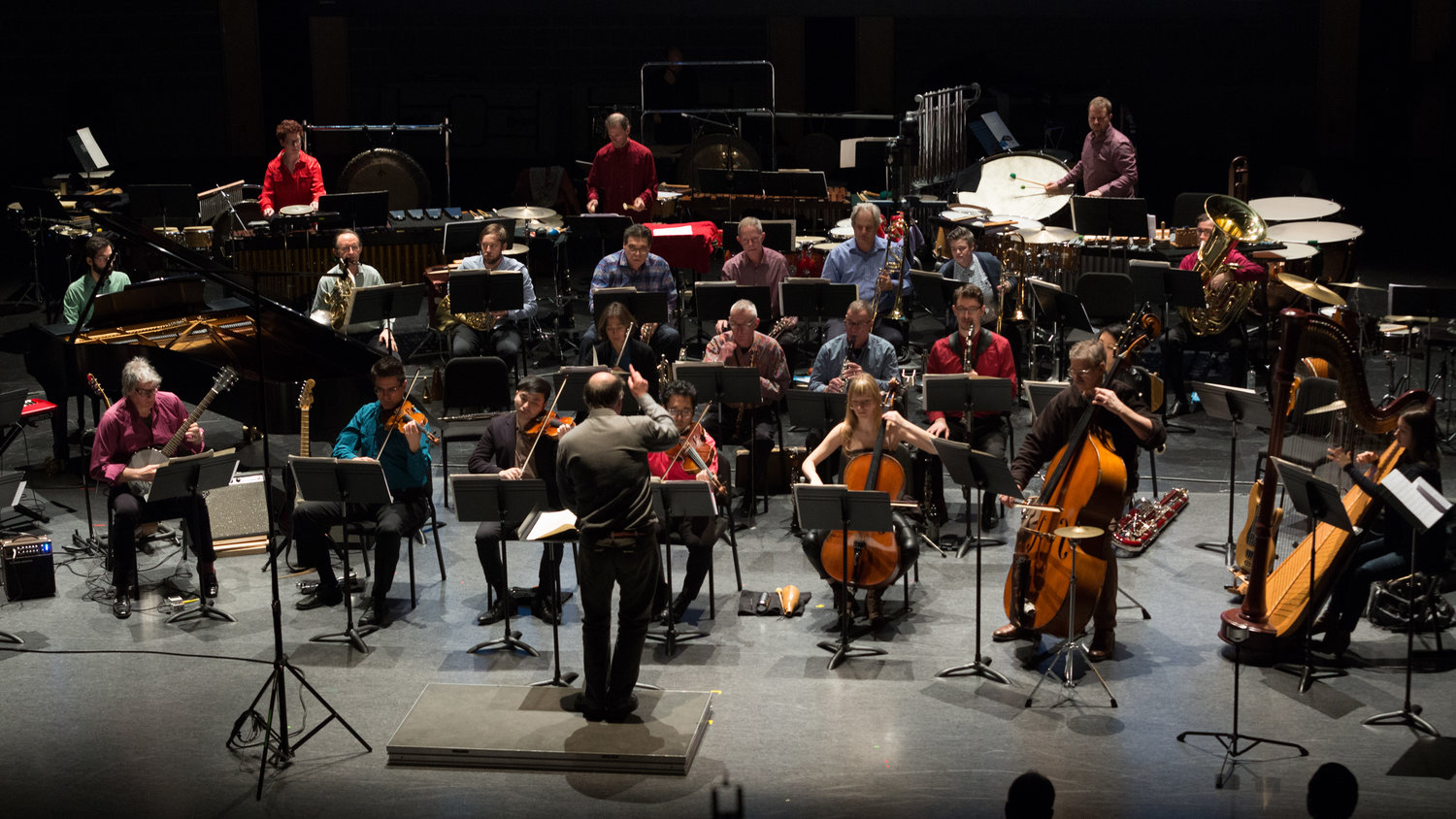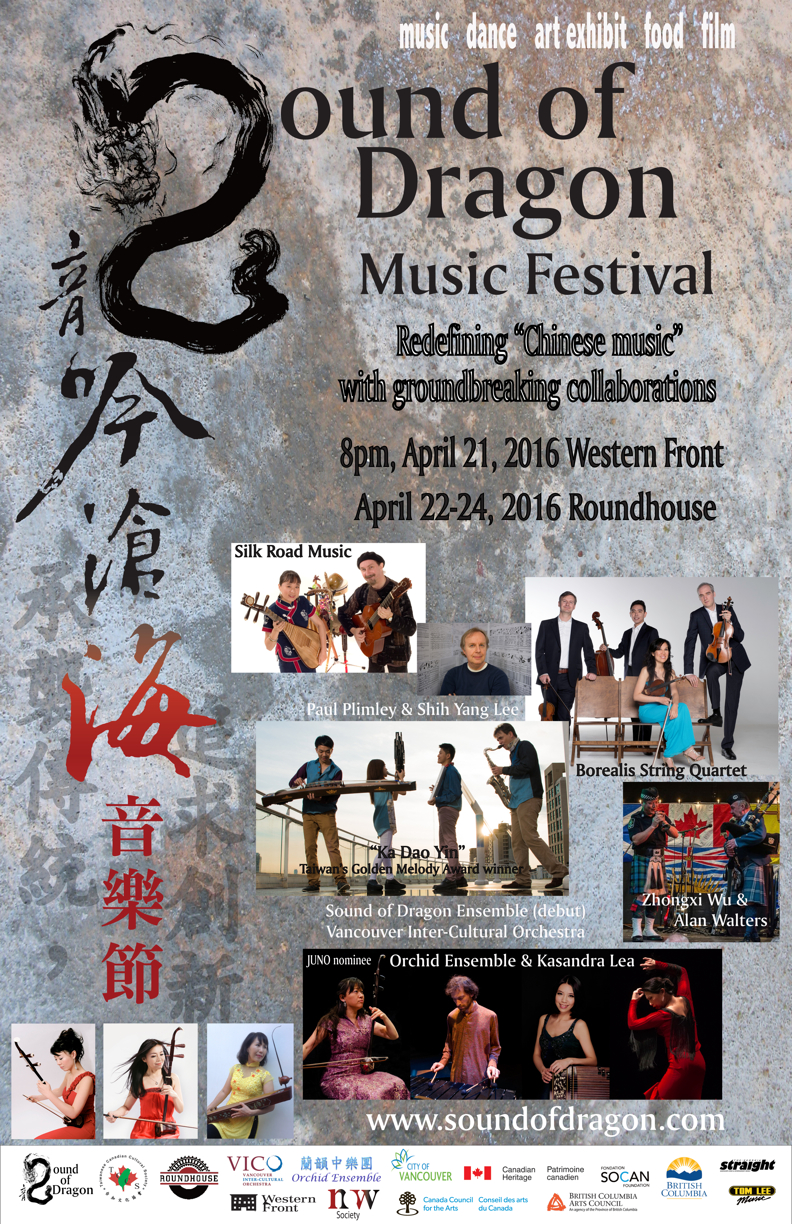 弓在弦上 2018年二月11日   購票
co-presented with the Vancouver Inter-Cultural Orchestra
3:30pm Orpheum Annex (823 Seymour Street, Vancouver, BC)
tickets: $30 VIP, $19.99 regular, $15 students/seniors/children
featuring cellist Bo Peng, Cellissimo, Lan Tung (erhu), and Richmond Delta Youth Orchestra
Music of the Heavens – Nov 23, 2017
天籟 2017年11月23日
Nov 23, 2017, 8pm Norman Rothstein Theatre
co-presented by Orchid Ensemble, Centre for Culture & Technology UBC Okanagan, and Sound of Dragon Society
celebrating Orchid Ensemble's 20th anniversary
Music of the Heavens is a multicultural creation of live music and multimedia animated visuals that tell ancient astrological stories from Chinese, Greek, and the First Nations traditions. The artists re-interpret the stories and explore the meeting of cultures in their collaborative process with community members, where unique stars signifying individuals' heritage were made. Each story is connected to a season, and characters from the heavenly world travel through time and space as the night unfolds, highlighting different cultural beliefs.
July 1, 2017, 12-1:15pm Performance Works, Granville Island
Vancouver International Jazz Festival, co-presented by Coastal Jazz & Blues Society, Sound of Dragon Society
Free concert, celebrating Canada 150 on Canada Day!
Led by Lan Tung erhu/voice, Proliferasian performs cutting-edge music rooted in Chinese traditions and avant-garde jazz, mixing rhythmic intricacy with the fluid spontaneity of improvisation. Hailed by The New York Times as "a pipa player like no other," special guest Xiaofen Min "has taken her ancient Chinese string instrument into the future" (Village Voice). With JP Carter trumpet/electronics, Colin Cowan bass, Ron Samworthguitar, Bernie Arai drums.
8pm Orpheum Annex (823 Seymour Street, Vancouver, BC)
tickets: $15 regular, $10 students/seniors/children
The Sound of Dragon Ensemble brings together some of the most skillful musicians from the east and west to create new inter-cultural music featuring a unique combination of instruments.The Ensemble includes bowed strings, with Lan Tung and Nicole Li on erhu/Chinese violin and Marina Hasselberg on cello; plucked strings, with Zhimin Yu on the ruan/Chinese lute and Itamar Erez on guitar; winds, with Charlie Lui on the dizi/Chinese flute and Mark McGregor on the flute, and; the multi-talented Jonathan Bernard on percussion instruments from around the world. March 9, they come together to present original works by Vancouver composers John Oliver, Mark Armanini, Farshid Samandari, Bruce Bai, and Lan Tung, Toronto composer Tony Leung, and Italian composer Marco Bindi. The Ensemble will also collaborate with Vancouver conductor Jin Zhang and dancer Dong Mei for the first time.
Proliferasian Fall 2016 concert – Sep 11, 2016   BUY TICKETS
7:30pm Orpheum Annex (823 Seymour Street, Vancouver, BC)
tickets: $15 regular, $10 students/seniors/children
Traveling freely between composed and improvised worlds, Proliferasian is a unique voice rising from the west coast of Canada. Proliferasian performs cutting edge music rooted in Chinese music and avant-garde jazz, representing the merging of two genres, and embracing even more elements into the equation. The musicians explore the contrasting, complimenting, and sometimes contradicting natures of multiple influences. The result is a new musical species that proliferates and transforms continuously. Proliferasian may take inspiration from Asian music, literature, landscape, legends, or paintings, but its music will definitely break any preconceptions of Asian cultures. 
Formed in 2012, Proliferasian consists of some of Vancouver's most innovative musicians: Lan Tung (erhu/Chinese violin & vocals), JP Carter (trumpet and electronics), Colin Cowan (bass), and Kevin Romain (drums). Joining the band are guitarist Ron Samworth and cellist Finn Manniche.
第二屆溫哥華龍吟滄海音樂節,2016年四月22至24日   購票
After the successful premiere in 2014, the second installment of the Sound of Dragon Music Festival is all about collaboration and fusion. The festival, running on April 21-24, 2016, will feature some of the most creative music crafted through the collaboration between Vancouver's Chinese music community and its innovative partners, as well as international artists from Taiwan. See links under 2016 Festival for the complete line up.
light shadow fire 
光 影 火 (台北/倫敦/溫哥華),2016年四月21日晚上八點  購票
$15 general /$10 students/seniors/musicians (not part of the festival pass)
at Western Front (303 8th Ave. E. Vancouver)
Co-presentation of the Sound of Dragon Society, NOW Society, and Western Front
Sound of Dragon and the NOW Society join forces in concert presenting light, shadow and fire, following the paintings of Li Tung (Taiwan). With musicians from Taipei, London and Vancouver, and live painting by Li Tung, the programme explores improvisation in the context of new works by Lan Tung, Lisa Cay Miller and Ron Samworth. With Ron Samworth, guitar; Lisa Cay Miller, piano; and Clyde Reed, bass (NOW), Lan Tung, erhu and voice, Klaus Bru, saxophone; and Shih-Yang Lee, piano and melodica (Sound of Dragon).
7:30-8:30pm March 31 – Lecture Demon at Richmond Public Library – FREE
Brighouse (Main) Branch, Main Floor, Kwok-Chu Lee Living Room (7700 Minoru Gate, Richmond)
7:00-8:30pm April 1 – Peking Opera Percussion Music Hands-on Workshop– FREE (limited capacity, register by March 30 to reserve your seat)
David Lam Centre, SFU – 515 West Hastings Street, Harbour Centre Room 1510
翁柏偉的京劇音樂藝術講座 -三月31日晚上7:30列治文公共圖書館,免費
京劇鑼鼓音樂工作坊 -四月1日晚上7:00-8:30,林思齊國際交流中心,SFU,免費