Xiao Fen Min Residency
June 27-July 1, 2017
Hailed by The New York Times as "a pipa player like no other," special guest Xiaofen Min "has taken her ancient Chinese string instrument into the future" (Village Voice). During her debut visit to Vancouver, she will rehearse and perform with Proliferasian and Vancouver Inter-Cultural Orchestra, meet with Vancouver composers and musicians, and also give a free workshop as part of the Vancouver International Jazz Festival.
June 28, 2017, 1-2pm Xiao Fen Min workshop
Tom Lee Music Hall (728 Granville St, Vancouver)
Vancouver International Jazz Festival
Free
July 1, 2017, 12-1:15pm Lan Tung's Proliferasian featuring Xiao Fen Min
Performance Works, Granville Island
(1218 Cartwright St, Vancouver)
Vancouver International Jazz Festival,
co-presented by Coastal Jazz & Blues Society, Sound of Dragon Society
Free concert, celebrating Canada 150 on Canada Day!
July 1, 2017, Vancouver Inter-Cultural Orchestra Summer Academy 
BlueShore Financial Centre for the Performing Arts, Capilano University
(2055 Purcell Way, North Vancouver)
Xiao Fen Min's career demonstrates the various aspects of contemporary Chinese music developed in North American. She has performed solo, chamber, theatrical, orchestral, and experimental works on multiple Chinese plucked instruments, such as the pipa, ruan, and sanxian. As an accomplished vocalist, she fuses Chinese folk singing, narrative singing, and jazz to create a unique voice. She is one of the pioneers performing avant-garde improvisation on Chinese instruments. Her project Blue Pipa fuses jazz and Chinese folk/classical music, inspired by the works of American jazz artist Buck Clayton, a leading member of Count Basie's Old Testament orchestra, who worked with Li Jinhui, the father of Chinese popular music, in the 1930s in Shanghai. Xiao Fen's solo set "Mao, Monk and Me" investigates the deep and unexpected connections between the jazz standards of Thelonious Monk and Chinese music.
Xiao Fen Min's residency is supported by the Canada Council for the Arts' Foreign Artist Residency Program.
https://www.youtube.com/watch?v=6qOjAYCeexA&feature=youtu.be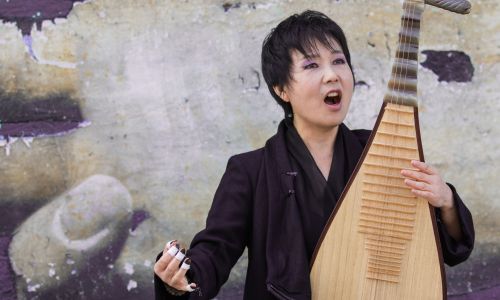 Led by Lan Tung erhu/voice, Proliferasian performs cutting-edge music rooted in Chinese traditions and avant-garde jazz, mixing rhythmic intricacy with the fluid spontaneity of improvisation, with JP Carter trumpet/electronics, Colin Cowan bass, Ron Samworthguitar, Bernie Arai drums. Traveling freely between composed and improvised worlds, Proliferasian is a unique voice rising from the west coast of Canada. The band encompasses both rhythmic intricacy in its compositions and the fluidity and spontaneity in creative improvisation. Distinctive from other Canadian ensembles utilizing Chinese instruments, the unique sound of Proliferasian cannot be mistaken as anyone else. Proliferasian performs cutting edge music rooted in Chinese music and avant-garde jazz, representing the merging of two genres, and embracing even more elements into the equation. The musicians explore the contrasting, complimenting, and sometimes contradicting natures of multiple influences. The result is a new "musical species" that proliferates and transforms continuously. Proliferasian may take inspiration from Asian music, literature, landscape, legends, or paintings, but its music will definitely break any preconceptions of Asian cultures. 
https://www.youtube.com/watch?v=RLhXVikb4NM