​2023 Workshop & Performance: Bowed String Players
Time/Date (Dec)/Location TBC, FREE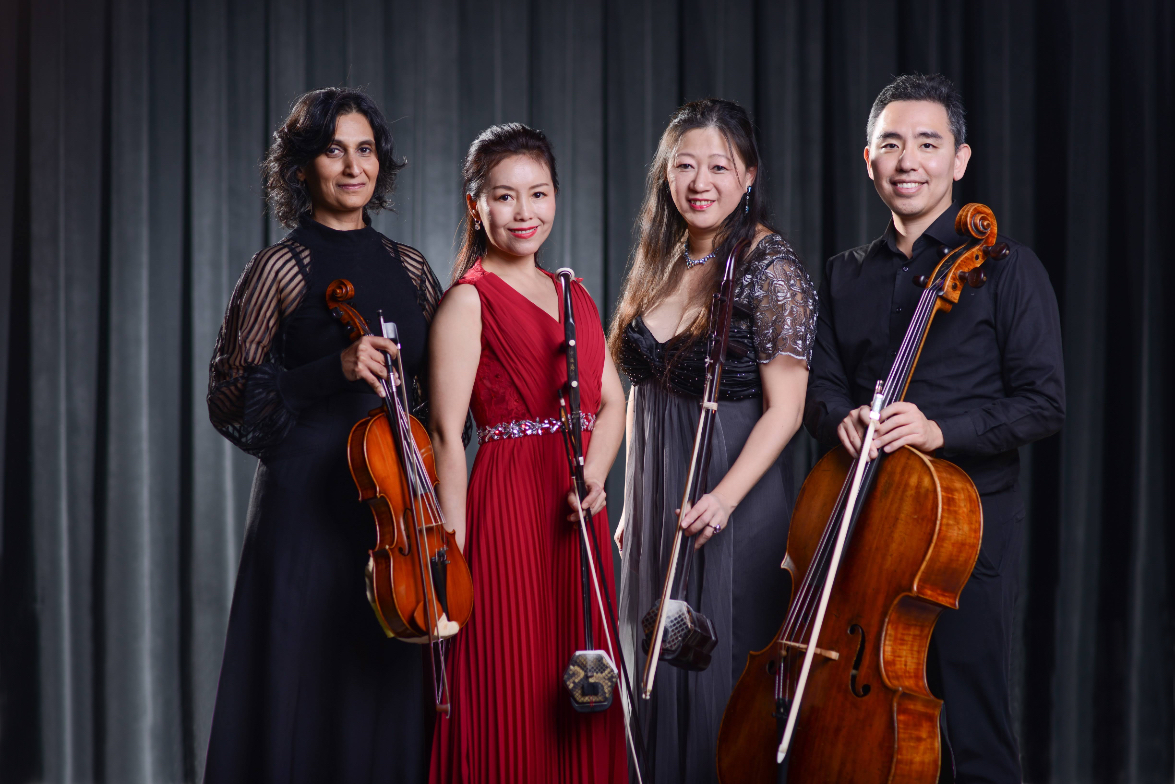 Created during the pandemic year in 2020, the Vancouver Erhu Quartet explores the sonic possibilities combining the erhu (Chinese violin) with western strings. The quartet consists of Vancouver erhu players Lan Tung and Jun Rong, violinist/violist Parmela Attariwala, and cellist Sungyong Lim. The quartet's all-Asian members represent Taiwanese, Chinese, Indian (South Asian), and Korean communities. Their interpretation of contemporary works is fused with the sensitivity and sense of breath from Asian traditions. At the same time, the musicians have performed/studied various musical styles to explore innovative approaches. Together they bring expertise in various genres, from traditional, contemporary, classical, avant-garde, to world/cross-cultural music.
Other programs on the Dec 10 concert includes premieres of new works for the Vancouver Erhu Quartet by Canadian composers Moshe Denburg, Elizabeth Knudson, Yawen Wang, and Amir Eslami. For more info, http://soundofdragon.com
The Sound of Dragon Society is presenting a free improvisation workshop for string players. We welcome the participation of musicians on any bowed string instruments from any culture, including but not limited to violin, viola, cello, double bass, erhu, kamanche, and sarangi. The workshop is open to professional players, community players, and students interested in exploring/advancing improvisation skills and sharing the love of bowed string instruments in a cross-cultural setting.
The participants will work with the Vancouver Erhu Quartet, led by Lan Tung (composer & erhu/Chinese violin) and Parmela Attariwala (violin & viola), to explore different textures, improvisation approaches, and graphic notation. The workshop will lead to a 20 minute performance involving the participants with the Vancouver Erhu Quartet on Sunday Dec 10 afternoon at the Annex, Vancouver.
Your participation includes the following:
A) 2 Workshop sessions (see page 2 for the date/time survey):
One day in late Nov or early Dec (Vancouver location)
Dec 8 or 9, 2023 at the Annex, Vancouver downtown, time TBC
B) Dress rehearsal and Performance:
Sunday Dec 10, 2023 afternoon at the Annex, time TBC
Requirement:
There is no cost to participate
Bring your own bowed string instruments
Have mastered basic techniques
Good communication and reply to emails/messages promptly
Fill out the Registration Form asap
For any question, please email lantungca@yahoo.com
To be part of the performance on Dec 10, you must participate in the rehearsal on Dec 8 or 9
. 
.     

.