PhoeNX Ensemble (Toronto)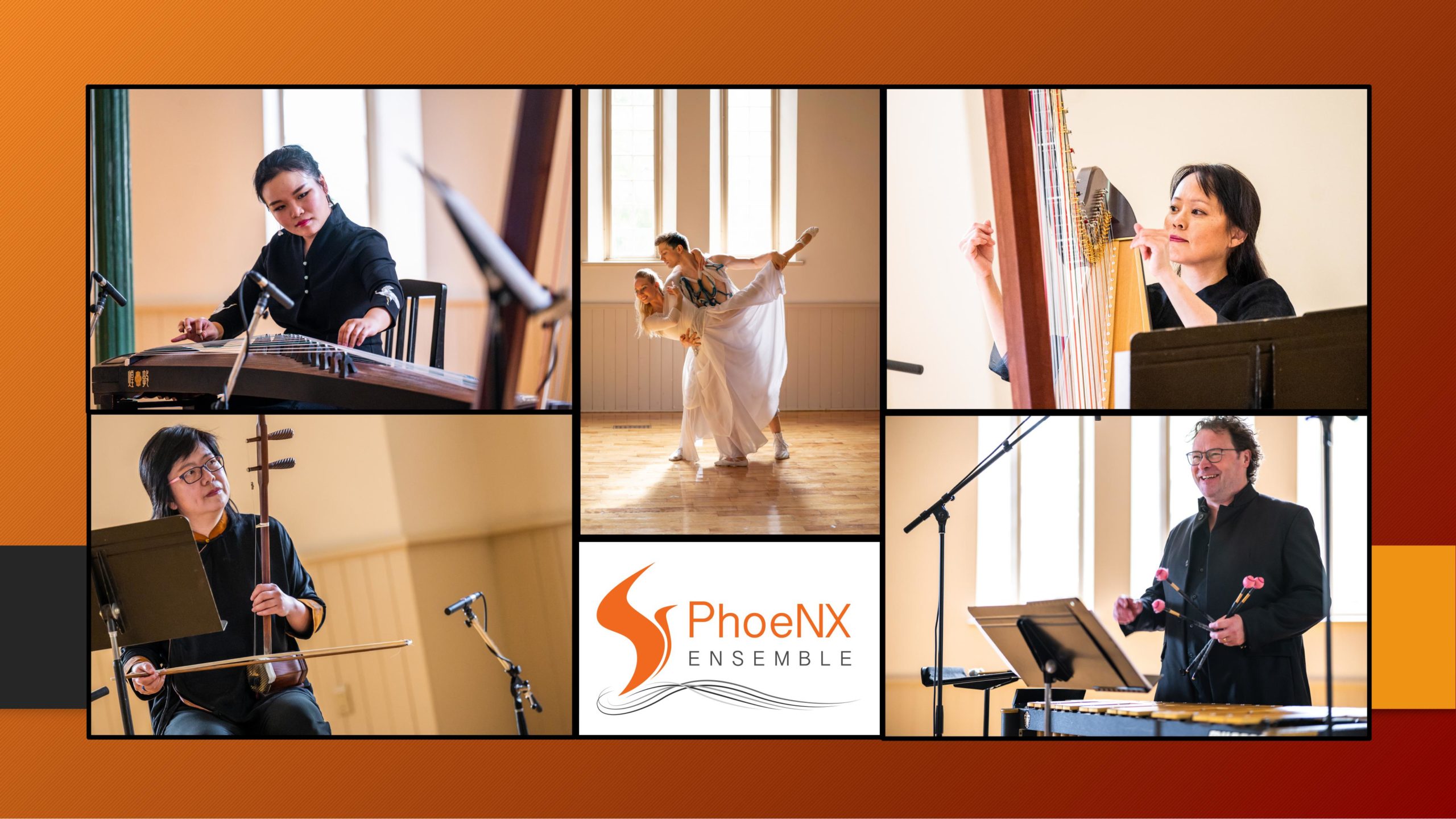 PhoeNX Ensemble offers a retelling of the tale upon which the annual Mid-Autumn Festival is based: the Legend of the Immortal Moon Goddess Chang'e. Through music, dance, and narration you will be transported to a world of power, passion, greed, sacrifice, and eternal love.
Composers (in order of performance):
Grace Currie (CA) Andrew Gosse (CA) Jérôme Langlois (CA)
Choreographer: Emily Cheung
Musicians:
Patty Chan, erhu
Sanya Eng, harp
Lina Cao, guzheng
Ryan Scott, vibraphone
Dancers:
Jessica Gomes, Chang'e
Zachary Cardwell, Hou Yi & Peng Meng
Narrator: Courtney Ch'ng Lancaster
Videographer and editor: Taylor Long
Sound engineer: Dennis Patterson
Photographer: Dahlia Katz
Translator: Angela Howell
PhoeNX Ensemble is a cross-cultural mixed chamber ensemble which blends traditional East Asian and Western instruments.  Our vision is to explore, promote, and expand the East/West mixed-musical medium through performances, educational workshops, commissioning, and cross-disciplinary collaborations.
This multi-layered instrumental palette merges together the rich musical histories and influences of the East and West, giving rise to an altogether new canvas of limitless sound potential and musical story-telling.
Founded by leading erhu musician Patty Chan, Director of Centre for Music Innovations and Music Director of the Toronto Chinese Orchestra, and Sanya Eng, an internationally acclaimed Toronto-based harpist, PhoeNX Ensemble is rooted in the heartfelt hopes of sharing inspirational narratives through a mixed ensemble sonority.
Each concert has an arc of experience.  Programmes are based upon compelling stories of true history, traditional mythology, or tales of life-lessons learned through fables.  With music ranging from time-honoured, Eastern-oriented classics to freshly commissioned contemporary new music, the audience is treated to a journey across cultures, languages, borders, and time….and ultimately: a journey of hope and inspiration.
Mid-Autumn Festival Offering: Legend of Chang'e, Immortal Goddess of the Moon (2021)