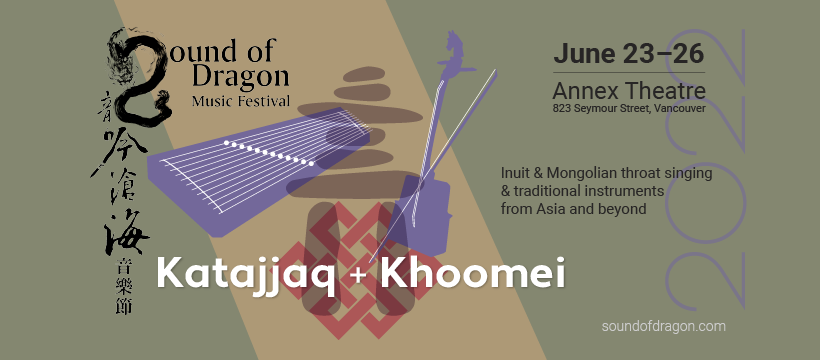 The 5th Sound of Dragon Music Festival – June 23-26, 2022
第五屆溫哥華龍吟滄海音樂節,2022年6月23~26日
"Vancouver's biennial celebration of Asian sounds returns with a program that spans everything from new Chinese chamber music to a genre-smashing showcase of intercultural improvisation". – Georgia Straight
presented by the Sound of Dragon Society, in collaboration with Caravan World Rhythms
Two Concerts 兩場音樂會: 
1) KATAJJAQ meets KHOOMEI (Inuit & Mongolian throat singing),
featuring Oktoécho (Montreal) & Orchid Ensemble (Vancouver) & Anand Avirmed (Mongolia)
8pm Friday June 24, 2022年6月24日星期五晚上8點 
【神奇的人聲】:「因紐特喉音唱法」 遇見「蒙古呼麥」 –
蒙特婁Oktoecho樂團、溫哥華蘭韻樂團、蒙古音樂家 Anand Avirmed 合作演出
Annex Theatre, 823 Seymour Street, Vancouver
Katajjaq (Inuit throat singing) and Khoomei (Mongolian throat singing) meet in the collaboration between Orchid Ensemble (Vancouver), Oktoecho (Montreal), and Anand Avirmed (Mongolia). Katajjaq and khoomei are ancestral throat singing techniques that reproduce sounds heard in nature –  water flowing, the wind blowing, echoes in mountains, the calls of birds… Coincidentally, these are also major themes in traditional Chinese music. In addition, the two ensembles offer unique cross-cultural instrumentations. This concert is a hybrid that crosses between Inuit, Mongolian, Chinese, Japanese, European, and Arabic music and it will be the first time katajjaq and khoomei are presented together on stage in BC.
co-presented with the Orchid Ensemble, with additional support from the BC Arts Council
Oktoecho's travel to Vancouver is supported by the Canada Council for the Arts
2) TAIWANESE MUSIC meets JAZZ on the YANGQIN (Chinese hammered dulcimer),
featuring Yaping Wang (Taiwan/France) & guests
8pm Saturday June 25, 2022年6月25日星期六晚上8點
【台灣音樂與爵士樂的對話】-
揚琴演奏家王雅平(台灣/法國)與溫哥華樂手
Annex Theatre, 823 Seymour Street, Vancouver
Yaping Wang makes her Canadian debut with a diverse program. Her solo work employs electronic processing and improvisation on the traditional Chinese hammered dulcimer. Wang`s compositions for jazz trio with Vancouver trumpeter John Korsrud and bassist Tommy Babin draw influence from her Taiwanese musical roots. She will also perform with harpist Albertina Chan and erhu player Lan Tung in the delicate and graceful work `Scented Flowers` by Vancouver composer Mark Armanini. 
BUY TICKETS 購票
Ticket for June 24 or 25 Concert: 
Early Bird (purchase by May 31, 2022): $19.99 regular, $15 students/seniors/children
From June 1, $25 regular, $19.99 students/seniors/children 
Festival Pass for June 24 & 25 concerts: $39.98 regular, $30 students/seniors/children
單場門票:
早鳥優惠價 (5月31日前),普通票 $19.99, 學生/長者/兒童 $15 
6月1日起,普通票 $25, 學生/長者/兒童 $19.99 
6月24、25日兩場音樂會聯票: 普通票 $39.98,學生/長者/兒童 $30
---
Free Events 免費活動:
1) THROAT SINGING WORKSHOP
7pm Thursday June 23, 2022年6月23日星期四晚上7點
「因紐特喉音唱法」與「蒙古呼麥」工作坊 
Annex Theatre, 823 Seymour Street, Vancouver
Workshop on two distinct styles of throat singing, featuring Katajjaq (Inuit throat singing) singers Lydia Etok & Caroline Novalinga (Montreal) and Khoomei (Mongolian throat singing) singer Anand Avirmed (Mongolia/US), who is also an accomplished and morin khuur (Mongolian horsehead fiddle) player.

2) "SONG OF JOY" Music Jam Party
3pm Sunday June 26, 2022年6月26日星期日下午3點
【歡樂歌】音樂派對
Annex Theatre, 823 Seymour Street, Vancouver
Bring any musical instruments and join us at this hands-on "freestyle" music jam party. Musicians of all levels and genres are welcome. You will meet and play with musicians from Vancouver's Chinese music community on various traditional instruments (erhu, dizi, sheng, ruan, zheng,…). Have musical exchange with our special guests Yaping Wang (yangqin) from Taiwan/Paris and Anand Avirmed (Khoomei & horsehead fiddle) from Mongolia/the US.
co-presented with Todd Wong of Gung Haggis Fat Choy
---
Online Programs 線上節目 (Free 免費欣賞):
1)SPOTLIGHT ON FESTIVAL PERFORMERS with host Edgar Muenala – LIVE STREAMING on Facebook 
June 23-25, 2022年6月23~25日 
【音樂家特輯】每日直播
daily live streaming of interviews and performances featuring individual performers at the festival, with host multi-instrumentalist Edgar Muenala
2)CONCERTS ON DEMAND 【網路音樂會】
release on June 1, 2022年6月1日首播
premiere of new videos by Vancouver ensembles as well as showcase of outstanding projects by national and international artists.
*June 24 & 25 concerts are not part of the online programs. Please attend these concerts in-person at the Annex Theatre, Vancouver.