8pm Friday June 24, 2022  
Katajjaq meets Khoomei (Inuit & Mongolian throat singing),
featuring Oktoecho (Montreal) & Orchid Ensemble (Vancouver) & Anand Avirmed (Mongolia)
【神奇的人聲】:「加拿大原住民喉音唱法」 遇上「蒙古呼麥」 –
蒙特婁Oktoécho樂團、溫哥華蘭韻樂團、蒙古音樂家 Anand Avirmed 合作演出
Annex Theatre, 823 Seymour Street, Vancouver
co-presented with the Orchid Ensemble, with additional support from the BC Arts Council
Oktoécho's travel to Vancouver is supported by the Canada Council for the Arts
BUY TICKETS 購票
Ticket for June 24 or 25 Concert: 
Early Bird (purchase by May 31, 2022): $19.99 regular, $15 students/seniors/children
From June 1, $25 regular, $19.99 students/seniors/children 
Festival Pass for June 24 & 25 concerts: $39.98 regular, $30 students/seniors/children
單場門票:
早鳥優惠價 (5月31日前),普通票 $19.99, 學生/長者/兒童 $15 
6月1日起,普通票 $25, 學生/長者/兒童 $19.99 
6月24、25日兩場音樂會聯票: 普通票 $39.98,學生/長者/兒童
Learn about Katajjaq and Khoomei, attend the free throat singing workshop at 7pm on June 23 at the Annex.
本場音樂會融合了因紐特、蒙古、台灣、日本、歐洲與阿拉伯音樂,這將是 katajjaq(加拿大因紐特原住民喉音唱法)和khoomei(呼麥 – 蒙古喉音唱法)首次在 BC省同台呈現。因紐特katajjaq 和蒙古呼麥khoomei都是古老的喉音歌唱技巧,以人聲模仿自然界的聲音,例如流水、風聲、山間迴響、鳥語蟲鳴……而這些也是亞洲傳統音樂中常用的主題。傳統因紐特katajjaq是族中女子的遊戲,通常是母女或姐妹兩人,面對面以雙手搭在彼此的肩膀上進行,透過對呼吸的調節發出短促的喉音,一個人在前半拍上,另一個人在後半拍上,一唱一和形成規律的節奏。蒙古的呼麥傳統上則是由男子演唱,在粗獷的低音根音的基礎上,演唱類似哨音的高音旋律,因此同時間能演唱不只一個音高。
獲加拿大朱諾Juno音樂獎提名的蘭韻樂團由來自台灣的二胡演奏家董籃 (Lan Tung)、古箏演奏家謝岱霖(Dailin Hsieh) 和加拿大擊樂演奏家Jonathan Bernard組成。蒙特婁Oktoecho樂團由一群來自不同文化的音樂家組成,本次參加演出的有因紐特katajjaq演唱家Lydia Etok 與Caroline Novalinga、吹管樂器演奏家Michel Dubeau (西洋長笛、日本尺八、阿爾曼尼亞管子、單簧管、風笛)、以及來自摩洛哥的烏德琴演奏家Khalil Moqadem。特邀嘉賓 Anand Avirmed 除了蒙古呼麥演唱外,也是馬頭琴(morin khuur)演奏的好手。
This concert is a hybrid that crosses between Inuit, Mongolian, Chinese, Japanese, European, and Arabic music and it will be the first time katajjaq (Inuit throat singing) and khoomei (Mongolian throat singing) are presented together on stage in BC. Katajjaq and khoomei are ancestral throat singing techniques that reproduce sounds heard in nature –  water flowing, the wind blowing, echoes in mountains, the calls of birds… Coincidentally, these are also major themes in traditional Chinese music.
The Juno nominated Orchid Ensemble is made up of Lan Tung on the erhu/Chinese violin, Dailin Hsieh on the zheng/Chinese zither, and Jonathan Bernard on percussion. Oktoecho is a collective of musicians from diverse cultures and at this concert, it will be represented by Inuit katajjaq performers Lydia Etok and Caroline Novalinga, multi-instrumentalist Michel Dubeau (flutes, shakuhachi, duduk, clarinet, bagpipe), and Moroccan oud player Khalil Moqadem. Special guest Anand Avirmed will perform khoomei and play the morin khuur (horsehead fiddle).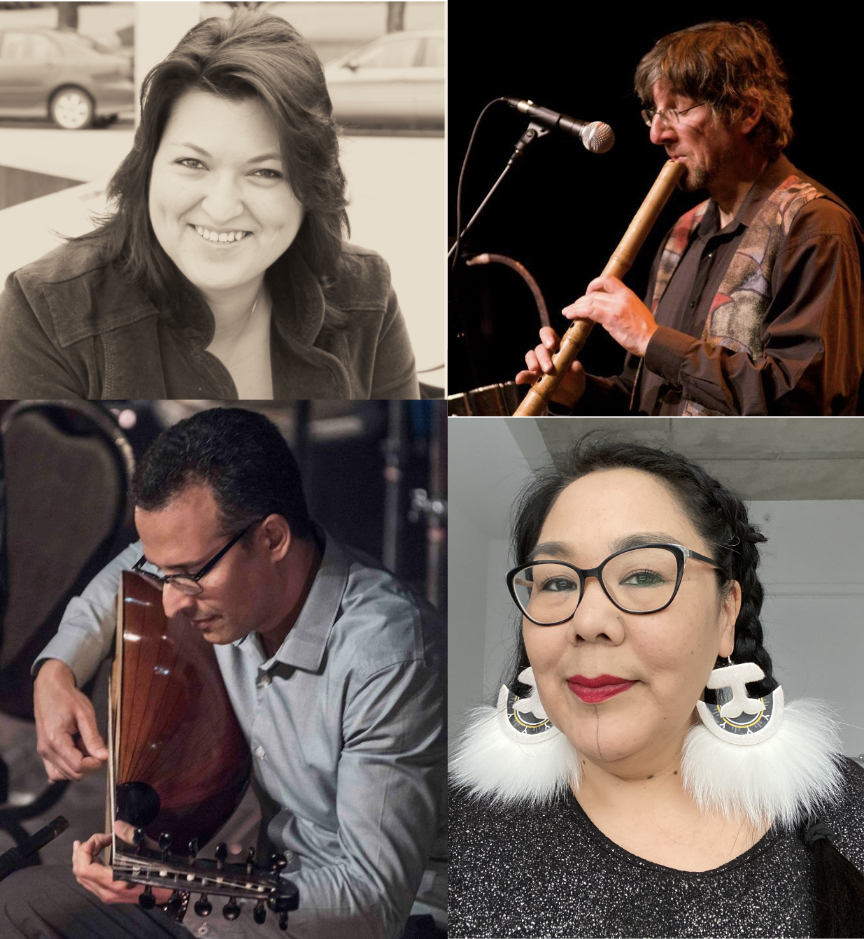 Okotecho guides the listener into a sonic world brimming with hope, aspiration, and lyricism found in the exceptional interlude between the Middle East, Arboriginal and the West. Under the artistic direction of composer Katia Makdissi-Warren, Okotécho explores mixed music and musical sounds through its own compositions.
The group has recorded soundtracks for film and expositions in Canada, France, Singapore, Korea, Lebanon and created the music for a permanent multi-media exhibit at the Burj-Dubaï Tower in Dubai, the highest structure in the world. Okotécho has toured in Spain and in Canada and has recently performed at the prestigious Beiteddin Festival in Lebanon. Okotécho has appeared at numerous venues: Festival du Monde Arabe de Montréal, Festival Présence Autochtone, Festival Séfarade de Montréal, l'Off-Festival de Jazz de Montréal, Palais Montcalm de Québec, Koerner Hall de Toronto.
more about Okotecho
Lydia Etok
–
Katajjaq (Inuit throat singing) 因紐特喉音演唱
長笛、尺八、愛爾蘭風笛、阿爾曼尼亞管子,
及多種不同民族吹管樂器
董籃 Lan Tung – erhu/Chinese violin & vocals 二胡 & 演唱
謝岱霖 Dailin Hsieh – zheng/Chinese zither 箏
Jonathan Bernard – percussion 打擊樂
Special guest
Anand Avirmed – khoomei & morin khuur
(Mongolian throat singing & horsehead fiddle)
蒙古呼麥 & 馬頭琴
Watch Video
click on the photos to open the high resolution version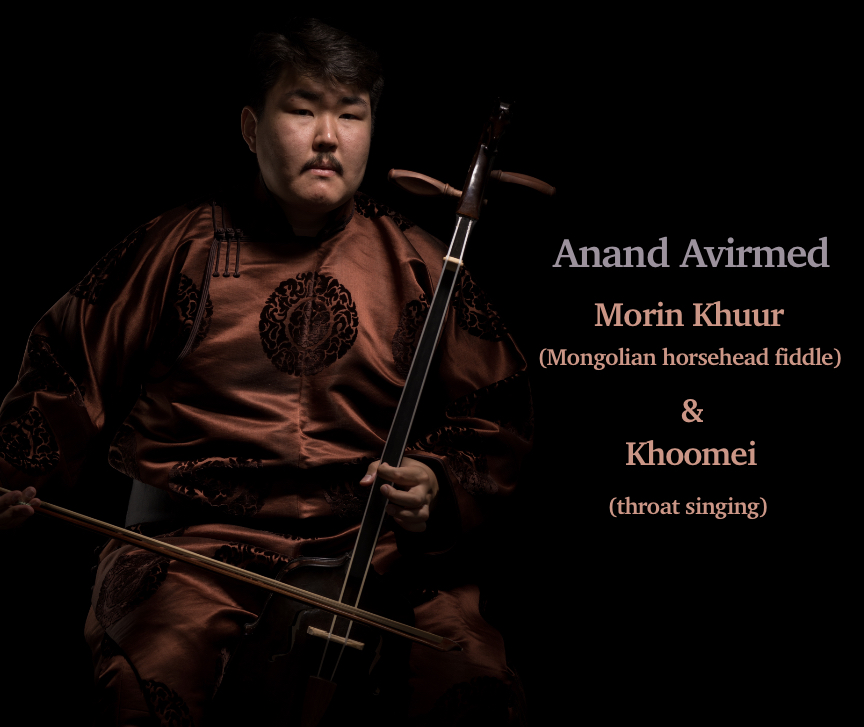 Orchid Ensemble 蘭韻樂團
Established in 1997, the JUNO nominated Orchid Ensemble is acclaimed as "one of the most adventurous groups uniting Eastern and Western musical traditions" (Georgia Straight). The ensemble regularly commissions and premieres new compositions. It has embraced a variety of styles in its repertoire, ranging from Taiwanese and Chinese music, World Music, New Music to Creative Improvisation. Its highly regarded interdisciplinary productions fuse music, dance (contemporary, aerial, flamenco, Chinese…etc), visual arts, and media arts. The ensemble collaborates with artists from various genres, exploring new grounds and breaking down boundaries. In addition, the ensemble has created unique collections of works for its choral, orchestral, and cross-cultural collaboration projects. 
The ensemble tours regularly across North America, performing at concert halls, educational institutions, and festivals. Recent appearances include The John F. Kennedy Center for the Performing Arts, the Smithsonian Institution's Freer Gallery, Canada Day Celebrations in Ottawa, Festival Miami, the Vancouver International Jazz Festival, the Chan Centre for the Performing Arts, and the National Arts Centre in Ottawa. As BC's spokesperson for the UNESCO ASPnet in Canada, the Orchid Ensemble gives educational presentations to various age groups. The ensemble's four CDs have won two International Independent Music Awards and received numerous nominations for JUNO, Western Canadian Music Awards, Canadian Independent Music Awards, and Canadian Folk Music Awards. 
more about Orchid Ensemble 蘭韻樂團官網
溫哥華蘭韻樂團,1997年由來自台灣的二胡演奏家董籃發起成立,現任團員包括台灣古箏演奏家謝岱霖、加拿大打擊樂/馬林巴演奏家強納生‧柏那德。獨特的樂器組合,加上董籃融合東西方風格的特殊唱腔,曲目豐富多樣並不斷創新。除新編經典的傳統樂曲,有融合西洋作曲法及東方藝術思維的原創作品,又或是跨越印度、中東、猶太、印尼、佛朗明哥、巴爾幹半島等傳統的世界音樂,甚至有運用即興演奏的爵士風格。他們成熟的音樂表現和默契的合作,取之于紮實的技巧,同時更是不斷借鑒與重組不同音樂文化精華的結果。蘭韻樂團每年以不同主題舉辦音樂會,委託加拿大作曲家創作新曲、並邀請不同族裔及領域的音樂家共同參與。近年來音樂會規模擴大,融入了舞蹈、動畫、書法、及多媒體藝術。蘭韻樂團的巡迴演出,從民俗音樂節、現代音樂節、爵士音樂節、室內樂音樂節、音樂廳、藝術中心、大學講座與示範、到校園兒童音樂會,展現樂團多重的風貌,足跡踏遍全北美,包括加拿大國家藝術中心、美國首府華盛頓的甘迺迪藝術中心、Smithsonian博物館、溫哥華陳氏演藝中心、多倫多湖畔藝術中心。於2002年起,蘭韻中樂團成為加拿大聯合國文化教育委員會代言人。
Anand Avirmed – khmooei & morin khuur
Anand Avirmed is a 21 year old Mongolian musician who was born in Washington DC. Since his youth, Anand has been performing Mongolian traditional folk music at numerous cultural events, be it Mongolian or International. As he grew up in age, so did his desire for a broader musical knowledge and understanding of all Mongolic cultures, from the Kalmyks in the West, to the Yakut's in the North, and all in between, strengthening his knowledge, and understanding of his grand heritage and all cousin folk. Anand is skilled in five different forms of throat singing (Khoomei). In addition, he performs on a wide range of musical instruments from Mongolia, Central Asia, and the west, including morin khuur, tovshuur, doshpoluur, igil, guitar, jaw harp, piano, and bass guitar. Through a wide itinerary of performing exotic folk music, to underground garage Indie rock, Anand in his young and coming career has seen more than his fair share in performing a vast variety of music. Previous performances included his own solo concerts in the Washington DC area, numerous cultural events, and with the Anura music ensemble under his Morin Khuur teacher Urlagbaatariin Khatanbold for the past 8 years. Anand looks forward to the coming years of travel and music, and constantly learning all he can from other musicians around him!