Little Giant Chinese Chamber Orchestra
Vancouver Chinese Music Ensemble
PRESERVE HERITAGE, SEEK INNOVATION // 承襲傳統、追求創新

"From hidden treasures to brand-new discoveries …Sound of Dragon might be rooted in Chinese culture, but it's also an exciting reflection of Vancouver's diversity". – Georgia Straight
The Sound of Dragon Society operates at the unceded territory of the Coast Salish Peoples, including the territories of the xʷməθkwəy̓əm (Musqueam), Skwxwú7mesh (Squamish), and Səl̓ílwətaʔ/Selilwitulh (Tsleil-Waututh) Nations, who have for centuries lived on this land, now known as Vancouver.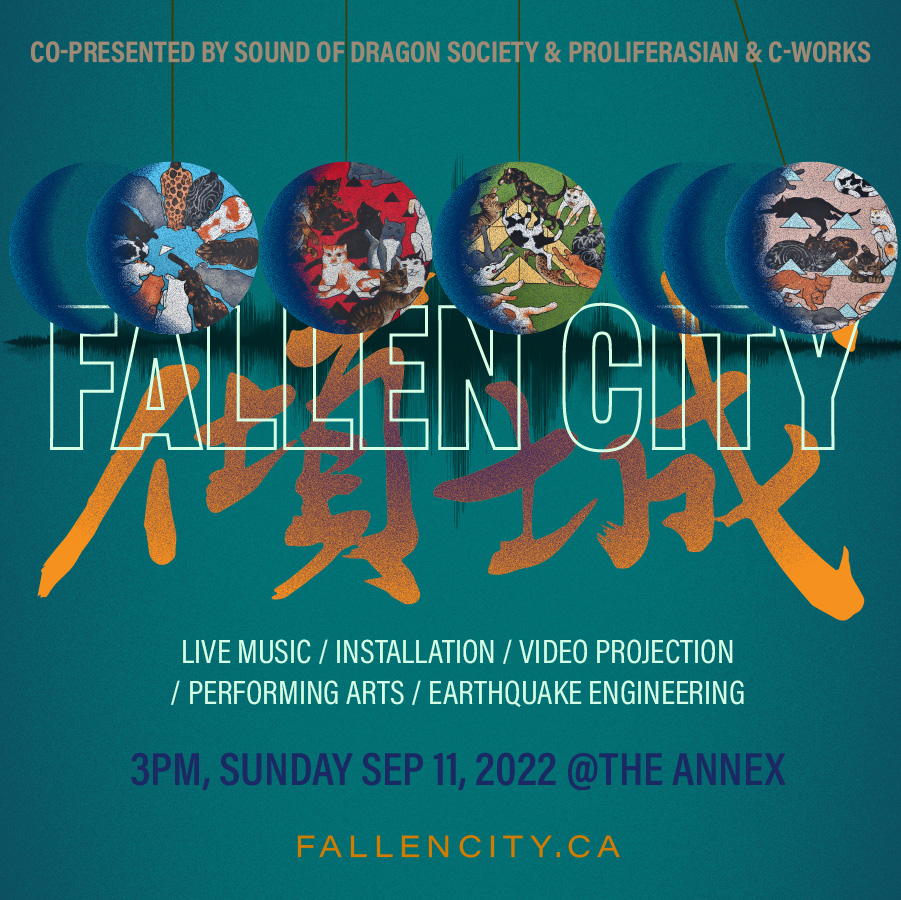 Fallen City is an interdisciplinary project that fuses the arts and science to raise awareness of earthquake risks and to honour the lives lost to earthquakes around the world. Co-presented by Proliferasian, C- Works, and Sound of Dragon Society, Fallen City offers a unique interactive theatrical experience in which audience members will participate.
Fallen City is the brainchild of 3 siblings – Lan Tung (producer/musician/composer), Dr. Dorian Tung (researcher/earthquake engineer), and Li Tung (visual artist/performer). Born in Taiwan, a country of frequent earthquakes, they now live in Vancouver, where there is increasing concern of a major earthquake. (Read more about earthquake risks in BC)
The project has a number of innovative elements. The materials are drawn from scientific studies of earthquakes and personal stories of earthquake experiences. Media artist company Chimerik 似不像, led by Shang-Han Chien and Sammy Chien, another set of siblings from Taiwan, incorporates images on these themes with live camera feed from the stage to create interactive video projection. Seismographic illustrations are treated with visual effects and also used as graphic scores to guide the musical development. A large musical pendulum, built by Li Tung in collaboration with software designer Arne Eigenfeldt and sound design artist Jeremy O'Neill, creates spectacular visual effects simulating earthquake waves and functions as a musical instrument to interact with the live performance by Proliferasian: Lan Tung on erhu (Chinese violin) and voice; JP Carter on trumpet and electronics; Kevin Romain on drums; Colin Cowan on bass; and Dailin Hsieh on zheng (Chinese zither). Proliferasian performs cutting edge music rooted in Asian traditions and avant-garde jazz. 
龍吟滄海音樂節 
2022年6月23-26日現場演出及網上  
"Vancouver's biennial celebration of Asian sounds returns with a program that spans everything from new Chinese chamber music to a genre-smashing showcase of intercultural improvisation". – Georgia Straight
The 2022 Sound of Dragon Music Festival will run on June 23-26 at the Annex Theatre (823 Seymour St, Vancouver), showcasing local, national, and international artists. The highlight are the two evening concerts:

Katajjaq (Inuit throat singing) and Khoomii (Mongolian throat singing) meet in the collaboration of the

Orchid Ensemble, Montreal's

Oktoecho, Mongolian musician Anand Avirmed. on June 24; Taiwanese music meets jazz and new composition with

yangqin virtuoso Yaping Wang (Taiwan/Paris) in her Canadian debut on June 25. The free events include the throat singing workshop led by Inuit and Mongolian singers on June 23, and a music jam party for everyone to join on June 26. As the festival closing event, musicians of any level and background are invited to bring musical instruments to play together in a party atmosphere with our festival house band, featuring local and guest musicians. New this year is a daily live streaming series on June 21-25 with host Andean flutist Edgar Muenala, who will collaborate with different festival performers on each day. There is also online concert on demand to release a number of videos the society has produced in 2021, featuring the Sound of Dragon Ensemble, Vancouver Erhu Quartet, and Crossbridge Strings.
BUY TICKETS 購票
Ticket for One Concert: $25 regular, $19.99 students/seniors/children 
Early Bird (purchase by May 31, 2022): $19.99 regular, $15 students/seniors/children
Festival Pass for June 24 & 25 concerts: $39.98 regular, $30 students/seniors/children
單場門票:普通票 $25, 學生/長者/兒童 $19.99 
六月24、25日兩場音樂會聯票: 普通票 $39.98, 學生/長者/兒童
8pm Dec 10, 2021 at the Annex.
買票 TICKETS  $19.99 regular, $15 students/seniors/children
Vancouver Erhu Quartet explores the sonic possibilities combining the erhu with western strings. The quartet consists of Vancouver erhu players Lan Tung and Jun Rong, violinist/violist Parmela Attariwala, and cellist Sungyong Lim. They bring together expertise in various genres, from traditional, contemporary, classical, avant-garde, and world/cross-cultural music to interdisciplinary performances.
Improvisation with inter-cultural strings
Benefit Concert for Wet'suwet'en Land Defenders
【多元文化弦樂器的即興對話】
5pm Dec 12, 2021 at the Orpheum Annex,
823 Seymour Street, Vancouver – live audience
Co-presentation of Sound of Dragon and the NOW Society
By Donation $xx / $20 / $10 / Free; 購票 Buy Tickets 
100% of donations equally divided, will be donated to 
Gidimt'en Legal Defense Funds and the Unist'ot'en Camp
Special guests:
Dallas Arcand, Cree Musician and Hoop Dancer;
Marjorie Dumont, Tsayu Clan, presenter;
Gunargie O'sullivan, aka Ga'axstasalas, Tlowitsis tribe, MC.
Inter-Cultural Strings Ensemble:
Sutrisno Hartana – rebab & suling (Indonesian fiddle & flute), vocal
Sina Ettehad – kamanche (Iranian fiddle)
Lan Tung – erhu (Chinese fiddle) & vocal
Meredith Bates & Joshua Zubot – violin
Lucy Strauss & Reginald Quiring – viola
James Meger – bass
Lisa Cay Miller – conduction
2021 Sound of Dragon Digital Festival – August-September 2021 on Youtube 
龍吟滄海音樂節 
2021年8~9月網上無限放送  
"Vancouver's biennial celebration of Asian sounds returns with a program that spans everything from new Chinese chamber music to a genre-smashing showcase of intercultural improvisation". – Georgia Straight
The 2020 Sound of Dragon Music Festival was cancelled due to the global pandemics. However, musicians in our community have been rehearsing and recording exciting cross-cultural compositions while following social distancing restrictions and health authority advises. Now we are ready to share these new videos with you.
Four Dragons – 7pm, July 30, 2021 TICKETS
龍吟滄海

2021年7月30日 晚上7點 買票 
The Sound of Dragon Ensemble welcomes you to its first concert with live audience since the beginning of the global pandemics last year. The repertoire includes the following: Alice Ping Yee Ho's "Four Dragons" (world premiere) tells ancient Chinese stories about four dragons descended from the heaven to save people from the draught and turned into four major rivers that form the cradles of Chinese culture. Farshid Samandari's "sine verbis" (world premiere) is a song for a masked ensemble symbolizing the effort to communicate against various types of censorship. The vocalist will sing with the mask on, like an invocation, though not able to form full sentences. Moshe Denburg's "The Ocean of Tears" (North American premiere) reflects upon the sadness in our world today, partly due to the pandemic, but also due to changing political and social configurations which seem to be making us forget our connectedness. It is only when we share in the consciousness of the sadness that all human beings are heir to, that we are able to overcome disunity. The Ocean of Tears is an attempt to take a step towards this much needed awareness of our common humanity.
Annex: 823 Seymour St, Vancouver (downtown)
tickets: $19.99 regular, $15 students/senior/children
limited seats available. social distancing in practice. mask required. 7-8pm, no intermission
經過漫長疫情的等待,終於迎來龍吟滄海樂團自去年起的第一場開放現場觀眾的音樂會,我們將首演三首新作品:多倫多華裔作曲家何冰頤的「四天龍」,分四個樂章,每個樂章描述一個中國古老神話中的龍的故事,神龍為大地帶來雨水解除旱災後,分別化身為黑龍江、黃河、長江、珠江,永遠守護著人們。溫哥華伊朗裔作曲家Farshid Samandari的作品「默然而聽」,有感於過去一年來人們在口罩的遮掩下,表達及溝通的困難,聯想到對言論自由的管制,不也是如同給人們強制的戴上口罩。猶太裔作曲家Moshe Denburg的作品「淚海」在疫情的壓抑氛圍中成形,但更是反思過去一年來社會上日趨嚴重的種族分化問題,希望憑藉音樂,點出人性的共同點,體現人與人之間的聯繫,撥正政治與族群的對立。
We Don't Hate Monsters – Oct 19, 2019
見怪 不怪
2019年10月19

– Free
下午3點開幕茶會、4點跨界表演,免費入場   
3pm LI TUNG arts exhibition opening reception, refreshment served
4pm music & dance improvisation, featuring Lan Tung (erhu & voice), Marina Hasselburg (cello), Olivia Shaffer (dance), Li Tung
Taiwanese Canadian Cultural Society
8853 Selkirk St. Vancouver, BC
co-presented by the Taiwanese Canadian Cultural Society & Sound of Dragon Society
We refer to the unusual abnormal creatures as monsters. We fear them, but at the same time, curiosity drives us toward them. The fear comes from the unknown, which makes them more interesting than the ordinary. They represent unconventional thinking, promoting a change of behaviour. They may be the keys for us to break away from our everyday life. The arts is the monster in an artist's life. This monster has a life of its own, on canvas, in music, and in movements, leading us to the unknown. 
Taiwanese artist Li Tung's solo exhibition "We Don't Hate Monsters" is a collection of futuristic paintings. They depict a surreal landscape or parallel universe where human race no longer dominates. The exhibition is open to the public from 9am to 5pm between October 12 and 31 (except for Sundays) at the Taiwanese Canadian Cultural Society. Meet with the artist at the opening reception at 3pm on Saturday Oct 19. This free event includes a performance of improvised music and dance, featuring Lan Tung (erhu/Chinese violin & vocal), Marina Hasselberg (cello), Olivia Shaffer (dance), and Li Tung the artist. 
light shadow fire – 8pm, Oct 25, 2019 
光、影、火
2019年十月25日晚上8點   
The Sound of Dragon Society and NOW Society co-present "light shadow fire", a cross-cultural interdisciplinary performance featuring improvising musicians and visual artist Li Tung.
NOW
Joshua Zubot – violin
Parmela Attariwala – viola
Kathia Rudametkin – viola
Lisa Cay Miller – piano
James Meger – bass
Skye Brooks – drums
Sound of Dragon
Lan Tung – erhu and voice
Li Tung – visuals and movement (Taipei)
Marina Hasselberg – cello
Limited seating. Reservations here will reserve your seat. You can donate at the door. $20 / $10 / pwyc
Moshe Denburg Tribute Concert – 70th Birthday!
作曲家莫協.丹伯格作品音樂會
4pm Sunday Nov 10, 2019 at the Annex 
(823 Seymour St. Vancouver, BC)
tickets $19.99 regular & $15 students/seniors/children
Vancouver's Orchid Ensemble celebrates the 70th birthday of its long-time collaborator, local composer Moshe Denburg, with a concert of his music. Mr. Denburg is one of the pioneers of inter-cultural music in Canada, founded the Vancouver Inter-Cultural Orchestra (VICO) in 2001, and has created compositions for many combinations of instruments from different countries. He is passionate about bringing people together with music and plays an important role in Vancouver's world music community. Featuring the Orchid Ensemble (Lan Tung – Erhu/Chinese Violin, Dailin Hsieh – Zheng/Chinese Zither, Jonathan Bernard – Percussion) with special guest Michelle Harding – Flamenco Dance. In addition, the ensemble will premier Elisha Denburg's "And Gather Our Dispersed From the Ends of the Earth".
Crossing Mountains & Seas  
8pm, July 20, 2019, Vancouver Playhouse – BUY TICKETS
穿越山海經
2019年七月20日   購票
produced by Orchid Ensemble 蘭韻樂團
co-presented with Sound of Dragon Society龍吟滄海協會
co-created by Lan Tung 董籃, Julia Taffe, Sammy Chien 簡上翔, and Chengxin Wei 魏成欣
choreography: Julia Taffe & Chengxin Wei
media arts: Chimerik 似不像
music composition: Lan Tung
performance: Aeriosa Dance & Orchid Ensemble
Crossing Mountains & Seas fuses together contemporary and aerial dance, contemporary music with Chinese traditions and avant-garde improvisation, against dramatic media projection with the latest video technology, crossing over modern day Canada and a magical world of pre-historic China as described in the ancient book Shan Hai Jing or the Classic of Mountains & Seas. The premiere is scheduled on July 11, 2019 at the Port Theatre in Nanaimo, BC and July 20, 2019 at the Vancouver Playhouse.
Shan Hai Jing 山海經 is an enormous collection of ancient Chinese writings and drawings about a magical world where countless mythical creatures or hybrids of human and animals have lived in over 100 kingdoms. How the creatures in these kingdoms have lived in harmony with each other is a metaphor of an ideal multi-cultural society that we are seeking for today. To bridge between the modern day and the mythical world, the story will unfold within an imaged role-playing video game based on Shan Hai Jing. The game acts as a portal for our characters travel between the ancient and modern worlds, the east and the west, the sea and the sky, and the reality and our imagination. Setting the story within a game environment allows for infinite possibilities for creative ideas and makes connection to the youth culture.
7pm, May 30, 2019,
 Western Front, Vancouver – 
BUY TICKETS
2019年五月30日晚上7點   

購

票
The Sound of Dragon Ensemble (Vancouver) and Melody of China (San Francisco) come together to create the first collaboration between two professional ensembles of Chinese roots from across the border in North America. This concert will give the world premiere of new commissions by Dorothy Chang (Canada), Itamar Erez (Canada), and Yuan Chen Li (US/Taiwan), along with works by Mark Armanini, Ali Razmi, and Lan Tung. Featuring soloists Yangqin Zhao (yangqin/Chinese hammered dulcimer) and Gangqin Zhao (zheng/Chinese zither), this concert marks Melody of China's Vancouver debut. Welcoming back guest conductor Chih Sheng Chen (Taiwan) for the third time, this concert will prepare the Sound of Dragon Ensemble for its debut Asia tour this fall.
Following the Vancouver concert, the ensembles will share the stage at Fort Mason Centre for Arts & Culture as part of the San Francisco International Arts Festival at 6pm on June 2, 2019.