Vancouver Chinese Music Ensemble
PRESERVE HERITAGE, SEEK INNOVATION // 承襲傳統、追求創新

"From hidden treasures to brand-new discoveries …Sound of Dragon might be rooted in Chinese culture, but it's also an exciting reflection of Vancouver's diversity". – Georgia Straight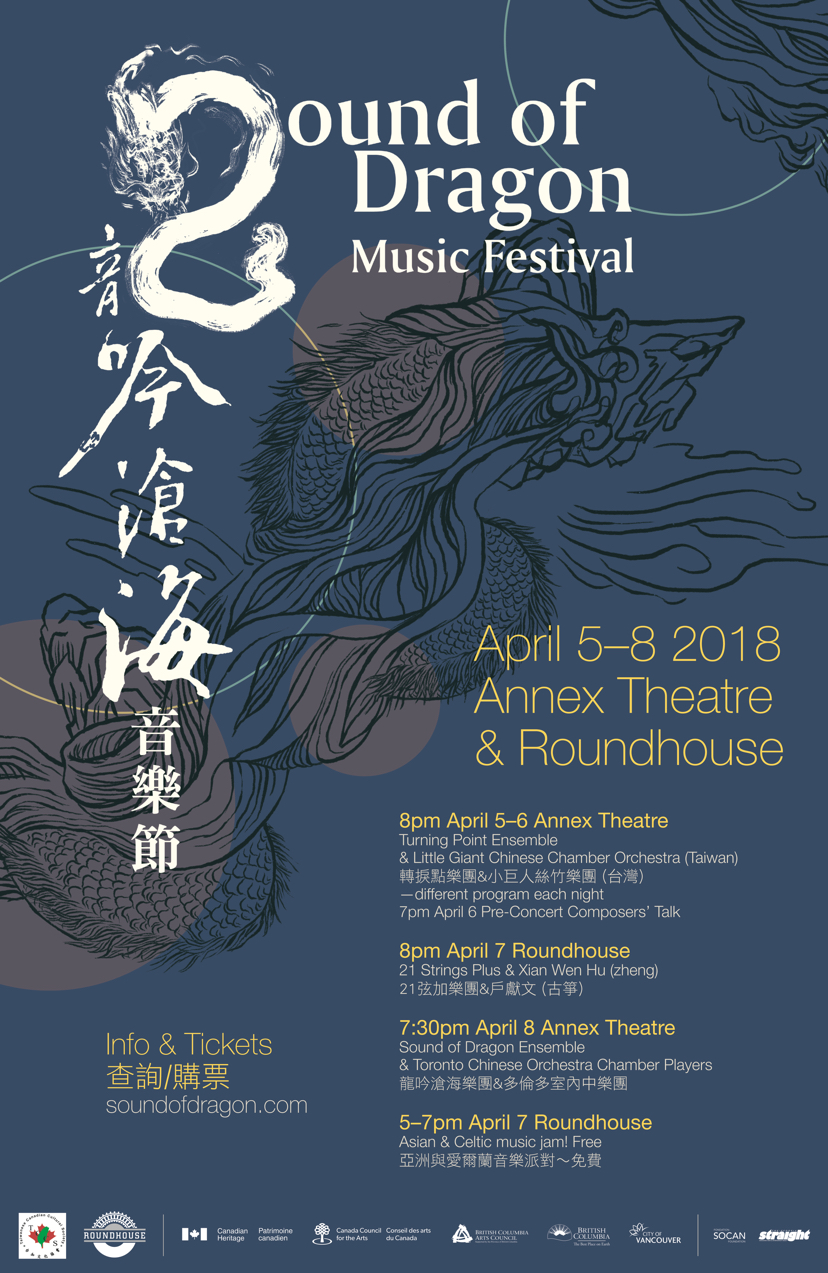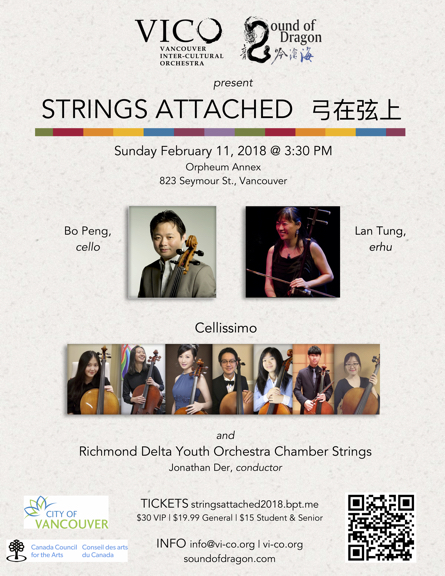 弓在弦上 2018年二月11日   購票
co-presented with the Vancouver Inter-Cultural Orchestra
3:30pm Orpheum Annex (823 Seymour Street, Vancouver, BC)
tickets: $30 VIP, $19.99 regular, $15 students/seniors/children
featuring cellist Bo Peng, Cellissimo, Lan Tung (erhu), and Richmond Delta Youth Orchestra
2018年春季徵曲
Call for Scores deadline: April 10, 2018
Reading session co-presented with the Canadian Music Centre
1-5pm BC Creative Hob (837 Davie Street, Vancouver, BC)
Free Admission, limited seating
featuring Little Giant Chinese Chamber Orchestra (Taiwan) conducted by Chih Sheng Chen
Music of the Heavens – Nov 23, 2017
天籟 2017年11月23日
Nov 23, 2017, 8pm Norman Rothstein Theatre
co-presented by Orchid Ensemble, Centre for Culture & Technology UBC Okanagan, and Sound of Dragon Society
celebrating Orchid Ensemble's 20th anniversary
Music of the Heavens is a multicultural creation of live music and multimedia animated visuals that tell ancient astrological stories from Chinese, Greek, and the First Nations traditions. The artists re-interpret the stories and explore the meeting of cultures in their collaborative process with community members, where unique stars signifying individuals' heritage were made. Each story is connected to a season, and characters from the heavenly world travel through time and space as the night unfolds, highlighting different cultural beliefs.
July 1, 2017, 12-1:15pm Performance Works, Granville Island
Vancouver International Jazz Festival, co-presented by Coastal Jazz & Blues Society, Sound of Dragon Society
Free concert, celebrating Canada 150 on Canada Day!
Led by Lan Tung erhu/voice, Proliferasian performs cutting-edge music rooted in Chinese traditions and avant-garde jazz, mixing rhythmic intricacy with the fluid spontaneity of improvisation. Hailed by The New York Times as "a pipa player like no other," special guest Xiaofen Min "has taken her ancient Chinese string instrument into the future" (Village Voice). With JP Carter trumpet/electronics, Colin Cowan bass, Ron Samworthguitar, Bernie Arai drums.