Vancouver Chinese Music Ensemble
PRESERVE HERITAGE, SEEK INNOVATION // 承襲傳統、追求創新

"From hidden treasures to brand-new discoveries …Sound of Dragon might be rooted in Chinese culture, but it's also an exciting reflection of Vancouver's diversity". – Georgia Straight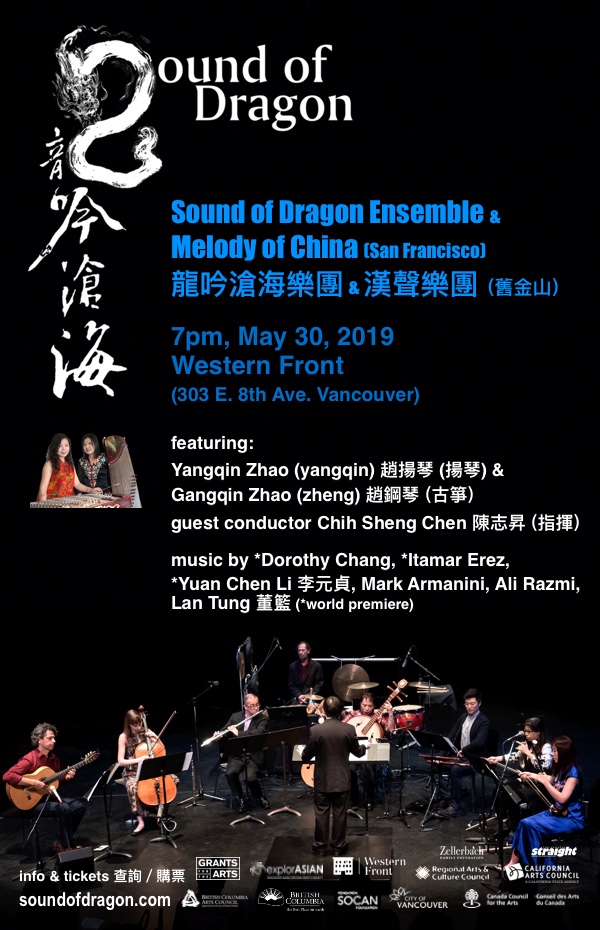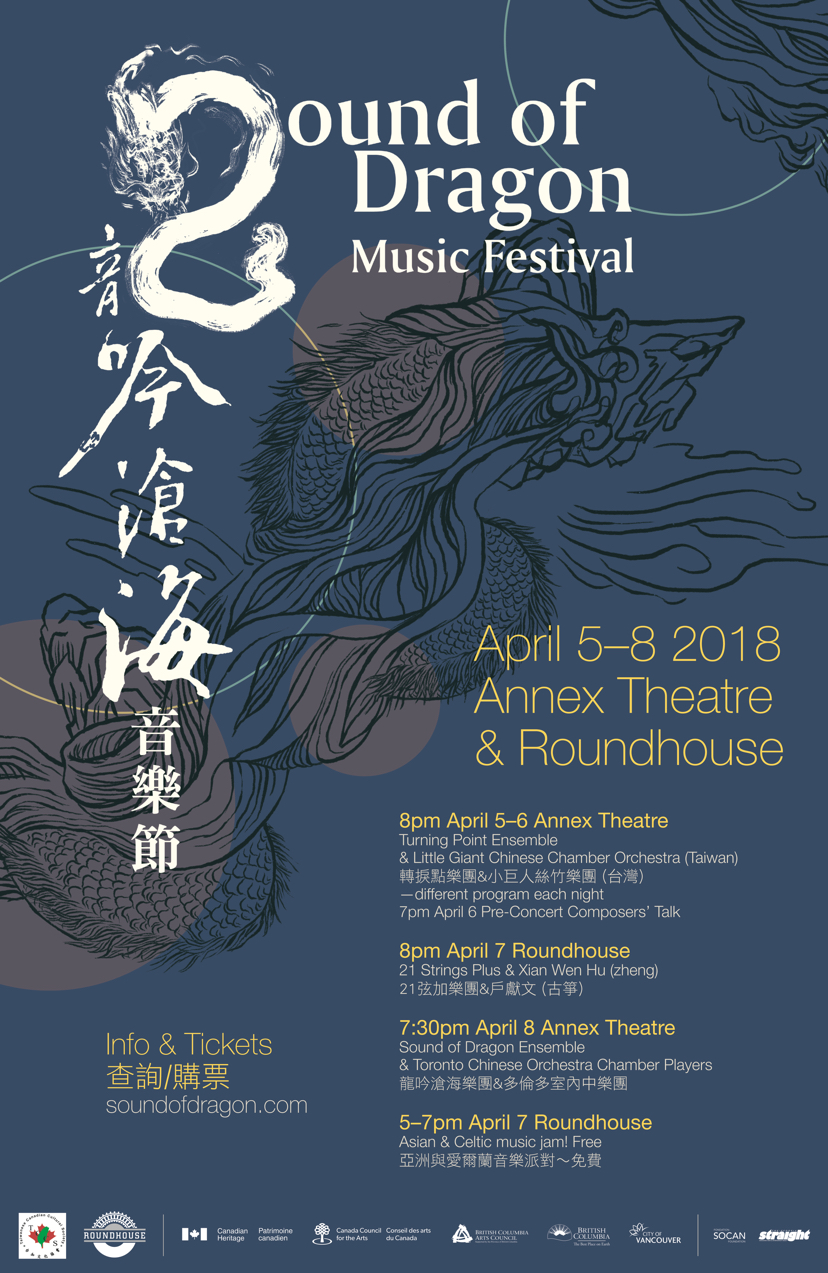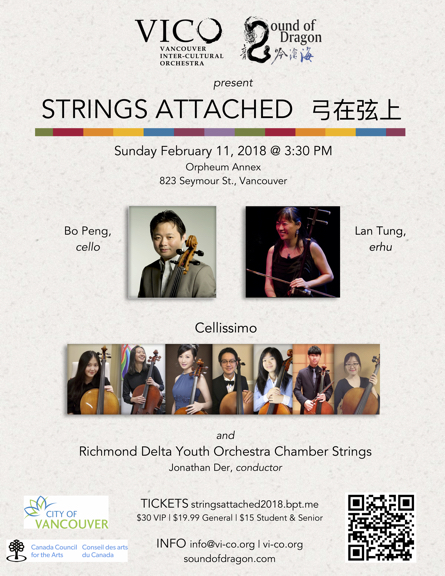 7pm, May 30, 2019,
 Western Front, Vancouver – 
BUY TICKETS
2019年五月30日晚上7點   

購

票
The Sound of Dragon Ensemble (Vancouver) and Melody of China (San Francisco) come together to create the first collaboration between two professional ensembles of Chinese roots from across the border in North America. This concert will give the world premiere of new commissions by Dorothy Chang (Canada), Itamar Erez (Canada), and Yuan Chen Li (US/Taiwan), along with works by Mark Armanini, Ali Razmi, and Lan Tung. Featuring soloists Yangqin Zhao (yangqin/Chinese hammered dulcimer) and Gangqin Zhao (zheng/Chinese zither), this concert marks Melody of China's Vancouver debut. Welcoming back guest conductor Chih Sheng Chen (Taiwan) for the third time, this concert will prepare the Sound of Dragon Ensemble for its debut Asia tour this fall.
Following the Vancouver concert, the ensembles will share the stage at Fort Mason Centre for Arts & Culture as part of the San Francisco International Arts Festival at 6pm on June 2, 2019.
Crossing Mountains & Seas  
8pm, July 20, 2019, Vancouver Playhouse – BUY TICKETS
穿越山海經
2019年七月20日   購票
produced by Orchid Ensemble 蘭韻樂團
co-presented with Sound of Dragon Society龍吟滄海協會
co-created by Lan Tung 董籃, Julia Taffe, Sammy Chien 簡上翔, and Chengxin Wei 魏成欣
choreography: Julia Taffe & Chengxin Wei
media arts: Chimerik 似不像
music composition: Lan Tung
performance: Aeriosa Dance & Orchid Ensemble
Crossing Mountains & Seas fuses together contemporary and aerial dance, contemporary music with Chinese traditions and avant-garde improvisation, against dramatic media projection with the latest video technology, crossing over modern day Canada and a magical world of pre-historic China as described in the ancient book Shan Hai Jing or the Classic of Mountains & Seas. The premiere is scheduled on July 11, 2019 at the Port Theatre in Nanaimo, BC and July 20, 2019 at the Vancouver Playhouse.
Shan Hai Jing 山海經 is an enormous collection of ancient Chinese writings and drawings about a magical world where countless mythical creatures or hybrids of human and animals have lived in over 100 kingdoms. How the creatures in these kingdoms have lived in harmony with each other is a metaphor of an ideal multi-cultural society that we are seeking for today. To bridge between the modern day and the mythical world, the story will unfold within an imaged role-playing video game based on Shan Hai Jing. The game acts as a portal for our characters travel between the ancient and modern worlds, the east and the west, the sea and the sky, and the reality and our imagination. Setting the story within a game environment allows for infinite possibilities for creative ideas and makes connection to the youth culture.
Moshe Denburg Tribute Concert 
8pm, Nov 10, 2019,
Annex, Vancouver –
BUY TICKETS
作曲家莫協.丹伯格作品音樂會
2019年11月10日晚上8點 

購

票
The Orchid Ensemble (Vancouver) celebrates the 70th birthday of its long time collaborator Moshe Denburg (Canada) with a full concert dedicated to perform his music. Between 2000 and 2013, Moshe has written for the ensemble the 3-movement Road to Kashgar, 4-movement El Adon, choral piece El Ginat Egoz, and a major work for the ensemble with flamenco dance. This concert will also give the Canadian premiere of Moshe's zheng solo work and the world premiere of a new work by Elisha Denburg, commissioned for this special occasion to honour Moshe Denburg's contribution to Canadian inter-cultural music.
4th Sound of Dragon Music Festival – June 4-7, 2020 
2020年六月4至7日   
The 2020 Sound of Dragon Music Festival will present the collaboration between Orchid Ensemble and Oktoecho (Montreal), Vancouver's newly formed Erhu Quartet, Taiwan Yangqin Ensemble 台灣揚琴樂團, Mongolian throat singer and horsehead fiddle player Tamir Hargana. 
弓在弦上 2018年二月11日 
co-presented with the Vancouver Inter-Cultural Orchestra
3:30pm Orpheum Annex (823 Seymour Street, Vancouver, BC)
tickets: $30 VIP, $19.99 regular, $15 students/seniors/children
featuring cellist Bo Peng, Cellissimo, Lan Tung (erhu), and Richmond Delta Youth Orchestra
2018年春季徵曲
Call for Scores deadline: April 10, 2018
Reading session co-presented with the Canadian Music Centre
1-5pm BC Creative Hob (837 Davie Street, Vancouver, BC)
Free Admission, limited seating
featuring Little Giant Chinese Chamber Orchestra (Taiwan) conducted by Chih Sheng Chen
Music of the Heavens – Nov 23, 2017
天籟 2017年11月23日
Nov 23, 2017, 8pm Norman Rothstein Theatre
co-presented by Orchid Ensemble, Centre for Culture & Technology UBC Okanagan, and Sound of Dragon Society
celebrating Orchid Ensemble's 20th anniversary
Music of the Heavens is a multicultural creation of live music and multimedia animated visuals that tell ancient astrological stories from Chinese, Greek, and the First Nations traditions. The artists re-interpret the stories and explore the meeting of cultures in their collaborative process with community members, where unique stars signifying individuals' heritage were made. Each story is connected to a season, and characters from the heavenly world travel through time and space as the night unfolds, highlighting different cultural beliefs.
July 1, 2017, 12-1:15pm Performance Works, Granville Island
Vancouver International Jazz Festival, co-presented by Coastal Jazz & Blues Society, Sound of Dragon Society
Free concert, celebrating Canada 150 on Canada Day!
Led by Lan Tung erhu/voice, Proliferasian performs cutting-edge music rooted in Chinese traditions and avant-garde jazz, mixing rhythmic intricacy with the fluid spontaneity of improvisation. Hailed by The New York Times as "a pipa player like no other," special guest Xiaofen Min "has taken her ancient Chinese string instrument into the future" (Village Voice). With JP Carter trumpet/electronics, Colin Cowan bass, Ron Samworthguitar, Bernie Arai drums.