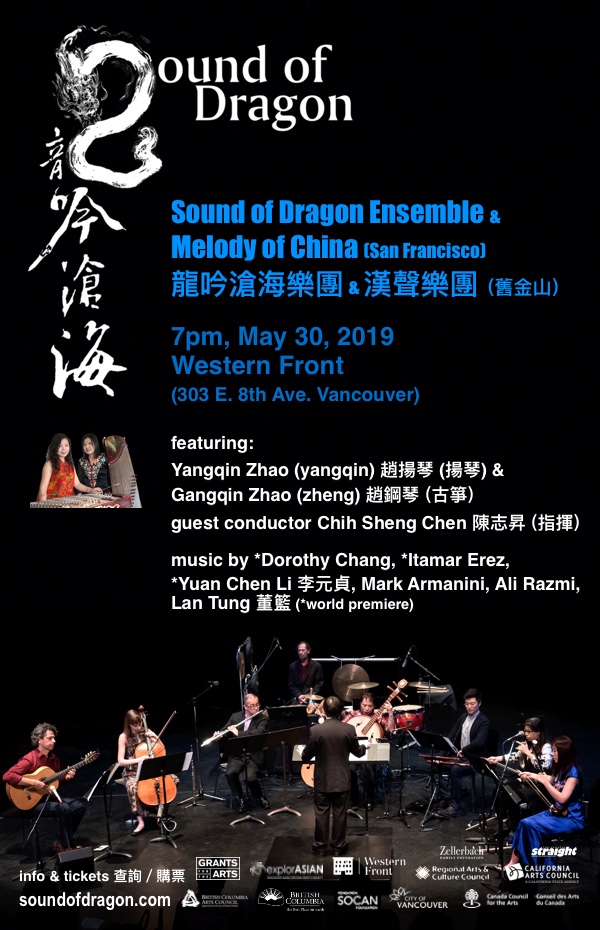 Melody of China 漢聲樂團 (San Francisco)
Described as "innovative and dazzling" by the San Francisco Chronicle, Melody of China, based in San Francisco, is the premiere Chinese music ensemble in the United States. The organization was formed in 1993 by a group of professional musicians graduated from some of the most prestigious music conservatories in China. To date, the ensemble has commissioned over 40 works by 20 American and Chinese composers. Melody of China has been guest artists with the Berlin Philharmonic and the San Francisco Symphony, and it has performed at New York's Lincoln Center, the Chicago World Music Festival, and the Lotus Festival and the Chicago Jazz Festival. Led by the artistic director Yangqin Zhao (yangqin/Chinese hammered dulcimer), the ensemble has a two-fold mission: to promote Chinese classical, folk, and contemporary music; and to enrich the cultural landscape on the Westcoast through the synergy between an ancient tradition and youthful multi-faceted American culture. The ensemble's diverse projects included collaborations with dance companies, the 
Earplay Ensemble, erhu virtuoso Jiebing Chen, 
and jazz pioneers Francis Wong, Jon Jang, Marcus Shelby and Deszon Claiborne. 
In addition, Melody of China is dedicated to arts education and conducts numerous classes and workshops for all ages. Melody of China is a partner with the SF Symphony's Adventures in Music program (AIM).
YANGQIN ZHAO 趙揚琴
A member of Chinese Musicians' Association and the Chinese Nationalities Orchestra Society, Ms. Zhao graduated with honors from the Music Department of the Nanjing Normal University and became the head of the faculty of Instrumental Music at the university.She won the highest award by the Ministry of Cultural Affairs of the People's Republic of China in 1982. Ms. Zhao also won first prize at the Jiangsu Provincial Arts Festival in 1987 and 1991. Her profile appeared in the "Who's Who in Young Chinese" and "The Chinese Musicians Yearbook" in 1990. Ms. Zhao has been invited to perform internationally in Australia, the Netherlands, Belgium, Singapore, Hong Kong, Mexico and Germany. In June 1996, she was invited as one of the "Seven Greatest Masters on the Yangqin" to perform at the Tanz & Folk Fest Rudolstadt (Folk Instruments Festival) in Germany.Ms. Zhao also represented China and the United States playing the Chinese hammered dulcimer at the International Santur Festival in Iran in 2003.She has performed at Lincoln Center, with the Shanghai Chinese Orchestra, Berlin Philharmonic Orchestra, the Woman Philharmonic, and the San Francisco Symphony.
GANGQIN ZHAO 趙鋼琴
A member of Chinese Musicians' Association, Gangqin finished her study in the Music Department of Nanjing Normal University in 1987. She was named one of the "Ten Best Musicians" by the university in 1990. She was a Zheng instructor at the Nanjing Children's Music and Dance School for years before she immigrated to the U.S. in late 1990s.She has performed internationally in Singapore, Demark and Germany. Currently, she is the director of Chinese Arts & Music Center in San Francisco. Her students won the Gold Medals at the 2010 International World Cup Chinese Instruments Competition.
7pm, May 30, 2019, Western Front, Vancouver –BUY TICKETS
溫哥華 2019年五月30日晚上7點   購票
舊金山 2019年六月2日晚上6點
The Sound of Dragon Ensemble
(Vancouver) and Melody of China (San Francisco) come together to create the first collaboration between two professional ensembles of Chinese roots from across the border in North America.
This concert will give the world premiere of new commissions by Dorothy Chang (Canada), Itamar Erez (Canada), and Yuan Chen Li (US/Taiwan), along with works by Mark Armanini, Ali Razmi, and Lan Tung. Featuring soloists Yangqin Zhao (yangqin/Chinese hammered dulcimer) and Gangqin Zhao (zheng/Chinese zither), this concert marks Melody of China's Vancouver debut. Formed in 1993 and among the longest running professional Chinese ensembles in North America, Melody of China is equally versed in traditional and contemporary music. It is the most well-known Chinese ensemble on the US Westcoast.
The Sound of Dragon Ensemble brings together some of the most skillful Vancouver musicians from both the east and the west to perform on a unique cross-cultural instrumentation. Welcoming back guest conductor Chih Sheng Chen (Taiwan) for the third time, this concert will prepare the ensemble for its debut Asia tour this fall.
Vancouver Repertoire曲目:
Crossover《穿越》– Ali Razmi, Arr. Lan Tung (2019)
Shan Ju Qiu Ming《山居秋暝》(2017) – Mark Armanini
Timekeepers《計時》(2019) – Dorothy Chang*
Reminiscence II《離歌 II》(2019) – Yuan Chen Li 李元貞*
Migrant Voices《聲之旅》(2019) – Itamar Erez*
Big Waves Wash Away the Sands《大浪淘沙》– 華彥君(1893-1950
Flying China《飛越中國》– arr. Yangqin Zhao & Gangqin Zhao, 趙揚琴、趙鋼琴 編曲
Migrant Voices《聲之旅》(2019) – Itamar Erez*
Sound of Dragon《龍吟滄海》(2014) – Lan Tung 董籃
Ba Ban Variations《八板變奏》(2009) – Lan Tung董籃
*world premiere
Sound of Dragon Ensemble (Vancouver)
"a unified yet exotic sound" – Georgia Straight, 2017
Established in 2015 and debuted at the 2016 Sound of Dragon Music Festival, the Sound of Dragon Ensemble brings together some of the most skillful Vancouver musicians from both the east and the west: Nicole Li (erhu), Lan Tung (erhu & voice), Marina Hasselberg (cell), Charlie Lui (dizi), Mark McGregor (flute), Itamar Erez (guitar), Zhimin Yu (ruan), and Jonathan Bernard (percussion). This instrumentation has been carefully selected by pairing Chinese and western instruments in the families of the winds, plucked strings and bowed strings, completed by a collection of percussion instruments from both the east and the west. The ensemble promotes the awareness/appreciation of Canadian intercultural music-making rooted in ongoing collaboration between artists from distinct cultures/traditions. Its repertoire represents original Canadian intercultural art music and breaks down genre boundaries, crossing over Chinese traditions, contemporary music, world fusion, and improvisation. The ensemble has premiered works by Canadian, US, Taiwanese, Chinese, Italian, and UK composers.
The Sound of Dragon Ensemble 龍吟滄海樂團 (musicians' bios)
Nicole Ge Li 李歌 – gaohu 高胡, erhu 二胡, zhonghu 中胡 
Lan Tung 董籃 – erhu 二胡 & vocal 人聲
Mark McGregor – flutes 長笛
Charlie Lui 呂畇初 – dizi/Chinese flutes 笛子, xiao 
Marina Hasselberg – cello 大提琴
Itamar Erez – guitar 吉他
Zhimin Yu 于志敏 – zhongruan 中阮 & daruan 大阮
Jonathan Bernard – percussion 打擊樂
龍吟滄海協會於2013年登記為加拿大BC省的非謀利音樂機構,透過舉辦音樂節、音樂會、工作坊、講座等活動,宣揚及保存華裔移民原生地的傳統音樂,同時鼓勵不同族裔的音樂家交流合作,創新發展融合東西方特點的新樂種,打破民族、地域、音樂類別的界限, 重新定義加拿大特色的華裔音樂,展現溫哥華音樂圈的多元與活力。
為進一步推動其「承襲傳統、追求創新」的理念,龍吟滄海協會於2015年籌組龍吟滄海樂團,按傳統絲竹樂的方式,以弓弦樂器、彈撥樂器、吹管樂器、打擊樂器組成。不同的是,龍吟滄海樂團的編制涵蓋了東、西方樂器,包括二胡、大提琴、阮、吉他、竹笛、長笛、各式打擊樂器。
龍吟滄海樂團的另一個使命,在促進溫哥華與加拿大其他城市,以及溫哥華與國外的音樂團體的交流,例如與台灣小巨人絲竹樂團(2018年)、多倫多室內中樂團(2018年)、舊金山漢聲樂團(2019年)的合作。2019年秋季亞洲巡迴包括新加坡及多個中國城市。
溫哥華喬治亞週報形容龍吟滄海樂團的音樂,兼具「 融合一致的整體性及文化碰撞帶來的異域風情」。樂團集結了大溫地區一群技巧精湛的音樂家, 共同探索跨文化的音樂領域,並提供作曲家、演奏家們創意實現的平台。樂團2015年首次的徵曲,即在國際上受到熱烈的迴響,收到33首來自13個國家作曲家的作品。此外,樂團亦積極委託當代作曲家譜寫新作。目前樂團的保留曲目有加拿大、台灣、中國、美國、義大利、英國作曲家的作品。