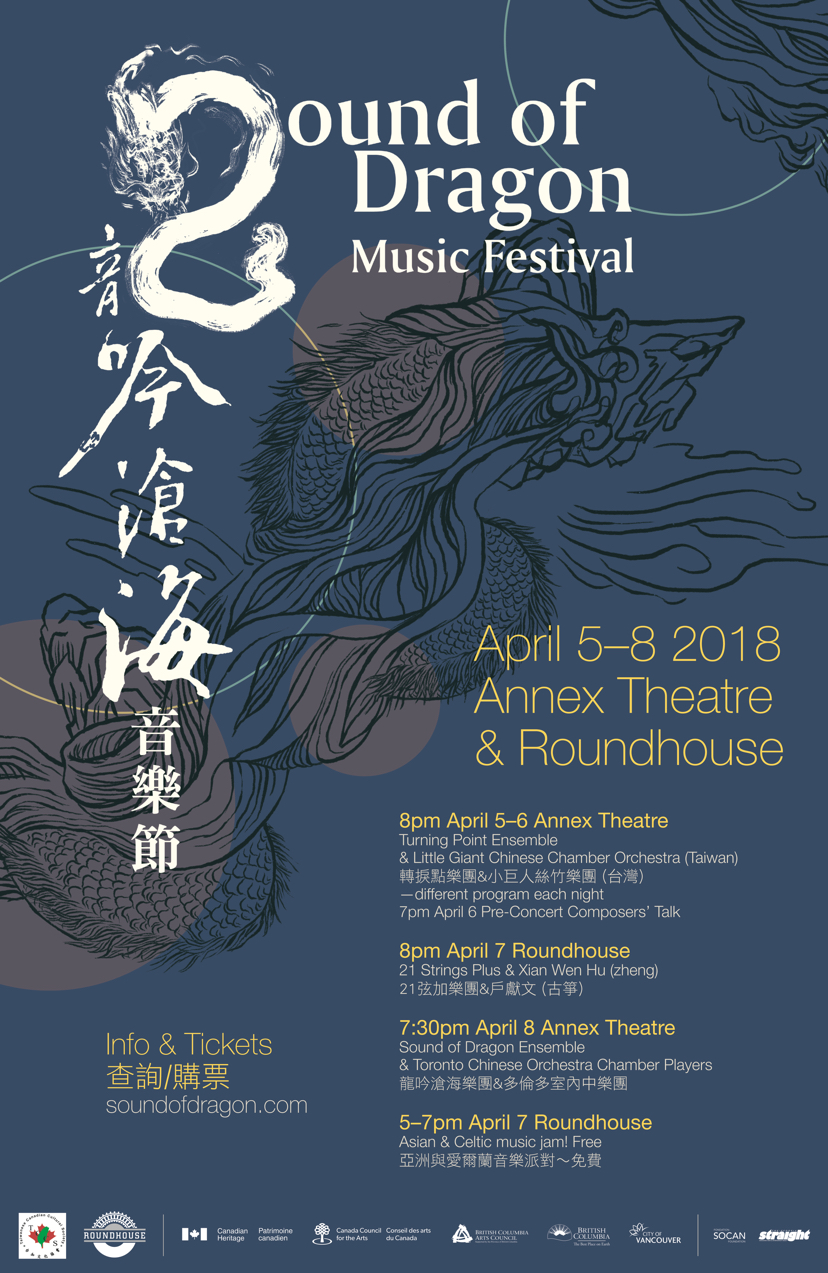 2022 Festival Press Release

2022音樂節中文新聞稿

Featured Composers
The 5th Sound of Dragon Music Festival – June 23-26, 2022
第四屆溫哥華龍吟滄海音樂節,2022年6月23~26日
"Vancouver's biennial celebration of Asian sounds returns with a program that spans everything from new Chinese chamber music to a genre-smashing showcase of intercultural improvisation". – Georgia Straight
Main Stage
For single concert: $25 regular, $20 students/seniors/children
For two concerts: $40 regular, $30 students/seniors/children
1) 8pm Thursday June 23, 2020 BUY TICKETS 購票
Roundhouse, Vancouver
蒙古呼麥與馬頭琴
Music of Mongolia, featuring Tamir Hargana (Inner Mongolia/US)
Presenting Partner: Caravan World Rhythms
 
Tamir Hargana, currently based in Chicago, specializes in Khoomei/Mongolian throat singing and the Morin Khuur/Horsehead fiddle, and multiple traditional Mongolian and Central Asian Instruments.
2) 8pm Friday June 24, 2020  BUY TICKETS 購票
Roundhouse, Vancouver
台灣三個人樂團
Three People Music (Taiwan) – dizi/Chinese flutes, zheng/zither, and ruan/lute
Community partner: Taiwanese Canadian Cultural Society
Three People Music – Canadian debut
Reviving a traditional art form of ancient history, Three People Music is dedicated to the creation and performance of music that is relevant to our time. Formed in 2013, Three People Music performs original chamber music on a unique combination of instruments: dizi/Chinese flutes, zheng/zither, and ruan/lute. The three members are both virtuosic performers and accomplished composers, who have written most of the trio's repertoire, drawing inspiration from different influences and genres. Three People Music has toured internationally and will give its Canadian debut at the 2020 Sound of Dragon Music Festival.
郭岷勤 KUO Min-chin – 古箏 Guzheng
潘宜彤 PAN I-tung – 中阮 Zhongruan
任重 JEN Chung – 笛簫 Dizi & Xiao
3) 8pm Saturday June 25, 2022  BUY TICKETS 購票
Annex Theatre, Vancouver
溫哥華蘭韻樂團與蒙特婁Oktoécho樂團 
Katajjaq & Khoomii – Orchid Ensemble (Vancouver) & Oktoécho (Montreal)
Katajjaq (Inuit throat singing) and Khoomii (Mongolian throat singing) meet in the collaboration between Orchid Ensemble (Vancouver) and Oktoécho (Montreal). Katajjaq and Khoomii are both ancestral songs that reproduce the sounds in the nature, such as water flow, wind, echoes in the mountains, and sounds of animals and birds. Coincidentally, these are also the major themes in traditional Chinese music. In addition, the two ensembles offer unique cross-cultural instrumentations. This project  is a hybrid creation that crosses over Inuit, Mongolian, Chinese, Japanese, Turkish, and Arabic music.
4) 7:30pm Sunday June 26, 2020 BUY TICKETS 購票
Annex Theatre, Vancouver
李歌二胡與鋼琴重奏 
Nicole Ge Li & Corey Hamm's PEP (Piano & Erhu Project)
Erhu player Nicole Ge Li and pianist Corey Hamm are the masterminds behind PEP (Piano and Erhu Project). The erhu is a 1,000-year-old bowed, two-string Chinese instrument, and in the 21st century it finally has been given occasion to meet the piano. The marriage of the two is profoundly agreeable: Li and Hamm's music is lithe, transportive, even funky. In their five-year history, PEP has commissioned over 75 works from composers including Gao Ping, Royden Tse, and Gabriel Prokofiev. The duo has released two albums and have two more forthcoming. In spring of 2018, they premiered the first double concerto for erhu and piano with the Vancouver Symphony Orchestra: Dorothy Chang's Gateways. PEP's pairing of two iconic Eastern and Western instruments has proven an unqualified success. The duo's repertoire testifies the versatility of the erhu and piano combination, taking the listeners on journeys to various musical styles.   
FREE EVENTS
5-7pm Friday June 5
Winds & Percussion Music Parade (Vancouver), featuring Zhongxi Wu & Jonathan Bernard
Parade route in downtown Vancouver TBA. It will end with a set at the Roundhouse courtyard.
Community Partner: Roundhouse Community & Recreation Centre
2-4pm Sunday June 7
"Free Style" Music Jam
Exhibition Hall, Roundhouse, Vancouver
House Band 台灣三個人樂團 Three People Music (Taiwan),
co-presented with Roundhouse Community & Recreation Centre
When everyone enjoys the performances on stage, musicians waiting to go on often meet and play some tunes together at backstage. These spontaneous moments can be truly magical and lots of fun. At the Sound of Dragon Music Festival, you don't need a backstage pass to join this music sharing party.
Bring any musical instruments, including voices, and play with Taiwan's Three People Music and surprise guests from Vancouver's music community. If you'd like to share some tunes, you are welcome to email lead sheets (melodies/chords) to soundofdragon@gmail.com ahead of time. There will also be plenty of opportunities to improvise and play by ear. Welcome music lovers of all levels and genres to participate. If you just want to listen, bring your family and friends too.
2pm Saturday May 12, 2018  FREE, registration required
SFU, Vancouver
Mountain High River Flow – Chinese landscape painting and music workshop
「山水畫與箏的對話」工作坊
台灣畫家董籬與古箏演奏家謝岱霖
visual artist Li Tung (Taiwan) & zheng soloist Dailin Hsieh (Taiwan),
co-presented with the David Lam Centre, SFU