Shan Ju Qiu Ming (2017) – Mark Armanini,
lyrics by Wong Wei (approx. 692-761 AD)
Shan Ju Qiu Ming (An Autumn Evening in the Mountains)
In the mountains, the rain has just stopped
The cool air declares the arrival of autumn
The bright moonlight shines on the pine trees
The clear spring flows over the rocks
There are voices coming from the bamboo forest
They are the women who have returned from the river after doing laundry
The lotuses are waving their leaves
Disturbed by the fisherman who are ready to depart
Although the spring grasses have died away
The autumn scenery is full of beauty
Those who are busy pursuing for fame, take a moment and stay for a while
Guo Xiang Ji Si (Passing the Incense Temple)
Unknowing on a journey
Deep into the cloudy peaks
Alone among ancient trees
A distant bell resounds
Down a steep rocky path
The mountain stream tumbles
Through a dime pine glade
In the fading light of day
Before rounding a bend
It settles in a pool of quiet
Where the peace filled mind
At last stills the lashing dragon
山居秋暝 – 王維
空山新雨後,天氣晚來秋,
明月松間照,清泉石上流;
竹喧歸浣女,蓮動下漁舟,
隨意春芳歇,王孫自可留。
過香積寺- 王維
不知香積寺,數裡入雲峰。
古木無人徑,深山何處鐘。
泉聲咽危石,日色冷青松。
薄暮空潭曲,安禪制毒龍。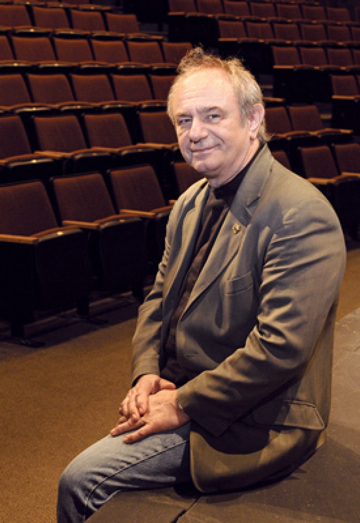 Mark Armanini, a native Vancouverite, studied composition with Elliot Weisgarber and piano with Robert Rodgers at UBC, graduating with a MMus. in 1984. In 1990 Mark began composing for various combinations of Oriental and Western instrumentation: the major works being four concerti recorded with the Latvian National Symphony with Vivian Xia yangqin, Heidi Krutzen harp and the Khac Chi Ensemble as soloists under the direction of conductor John Zoltek. The CD has been released as Rain in the Forest on the Centredisc's label.
In 2000 Mark traveled to Taipei, in 2003 to Beijing and Shanghai as part of composer exchanges, with performances and meetings in each city. In 2006, he performed at the Nanjing Jazz Festival, and in 2007 travelled to Wuhan to study the Marquis Yi Bell Set, which has rarely been studied by non-Chinese composers. In 2009, 2010 and 2011 Mark attended the Atlas Academy, a two-week intercultural orchestra intensive in Amsterdam, where his composition Chroma was premiered at the Concertgebouw.
With an extensive catalogue of over 60 works, Mark is building on his Vancouver roots. Many of his works celebrate his musical association with intercultural ensembles, among them the Orchid Ensemble. Their Heartland, the title track of the Orchid's debut CD is an Armanini composition. Mark is presently the Artistic Director of the Vancouver Intercultural Orchestra (VICO) and Producer of the BC Chinese Music Ensemble. He is on Faculty at Capilano University in North Vancouver.  http://armanini.ca