Alice Ping Yee Ho 何冰頤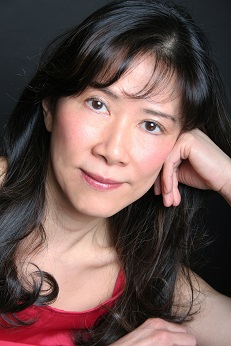 Considered "among the most important composers writing in this country" (D. Ariaratnam, The Record), Alice Ho is a Hong Kong-born Canadian composer acclaimed for her "distinctly individual" style and "organic flow of imagination."
She has written in many musical genres and received numerous national and international awards, including the 2016 Louis Applebaum Composers Award, 2014 Prince Edward Island Symphony Composers Competition,  2014 Kitchener Waterloo Symphony Friendship Orchestral Composition Competition, 2013 Dora Mavor Moore Award "Outstanding Original Opera" for her opera Lesson of Da Ji, 2013 Boston Metro Opera International Composition Competition, K.M. Hunter Artist Award, du Maurier Arts Ltd. Canadian Composers Competition, MACRO International Composition Competition, Luxembourg Sinfonietta International Composition Prize, and International League of Women Composers Competition. Her work "Glistening Pianos" for two pianos (Centrediscs label) was nominated for the 2015 JUNO Award Classical Composition of the Year. New recording of her music including an opera CD "Lesson of Da Ji" (Centrediscs/Naxos label) and "The Mysterious Boot" (Centrediscs/Naxos label) featuring her music for flute, cello, and piano (to be released in March, 2018). Her new opera "The Monkiest King" (commissioned by the Canadian Children's Opera Company to celebrate their 50th Anniversary) will receive world premiere May 25 to 27, 2018 at the Lyric Theatre, Toronto Center for the Arts. Her work "Coeur à Coeur" written for violin and piano (for Duo Concertante on Marquis Classic) is currently nominated for 2018 JUNO Classical Composition of the Year.
Often featured at national and international new music festivals such as ISCM World Music Days, Ottawa Chamberfest, Denmark's CRUSH New Music Festival, Asian Music Week in Japan, etc.; her works have also been performed by many major ensembles including China National Symphony, Polish Radio Choir, Finnish Lapland Chamber Orchestra, Esprit Orchestra, the Toronto, Vancouver, Winnipeg, Victoria, Kitchen Waterloo, and Windsor Symphonies, Amsterdam's Neuw Ensemble, Italy's Trivella Piano Duo, Penderecki String Quartet, Toronto's New Music Concerts, Continuum New Music, Torq, and Soundstreams. Her discography includes releases on the Centrediscs, Naxos, Marquis Classics, Blue Griffin, Electra and Phoenix labels.
She is a noted classical pianist and an active advocate of contemporary music. She had performed in many new music festivals, including a solo piano recital recorded by CBC Radio 2 in which she premiered Tan Dun's solo piano work "Traces II." She now makes her home in Toronto.
Alice Ho's website: www.alicepingyeeho.com
"Four Dragons" (2020) – Alice Ping Yee Ho (Toronto) 9'30"
for dizi, flute, erhu/vocal, erhu 2 or violin, guitar, ruan, cello, percussion
《四天龍》- 何冰頤,笛子、長笛、吉他、二胡/人聲、二胡或小提琴、阮、大提琴、打擊

This composition is inspired by tales of dragons in ancient mythology. Dragons are symbols of supreme power and good fortune in many cultures. I am particularly fascinated about the relationship between dragons and humans told in ancient Chinese folklore, their ability in controlling over nature and people is an important part of Chinese culture over thousands of years.
This nine minutes composition, commissioned by the Sound of Dragon Ensemble, unfolds the Four Dragons Tale of China. The four connecting short movements in this work suggests a "Once Upon A Time" story about four virtuous dragons saving the world from drought by scooping up sea water and sprayed rain from heaven. Their noble deed infuriated the Jade Emperor, and eventually banished themselves to form China's four great rivers – the Hellongjian 黑龍江 (Black Dragon) in the North, the Huangbe 黃河 (Yellow River) in central China, the Changjiang長江 (Yantze River) farther south,and the Zhujiang 珠江 (Pearl River) in the South.
The instrumentation is a mixed ensemble of dizi, western flute, female voice, percussion, classical guitar, daruan, 2 erhu, and cello. This unconventional combination provides unusual instrumental colors and timbre. An exotic sound world evolved from an atmospheric ceremonial first movement, and heightened the energy in the forthcoming music journey with distinct rhythmic and melodic ideas. Combining intense drumming, strumming techniques, microtonal effects, and folk style vocalization, I hope to sparks the imaginary characters of the dragons and voices of human, and engage the audience in an ancient magical world. 
"Buddha's Song" (2013, 2018) – Alice Ping Yee Ho (Toronto) 7'00"
for dizi, sheng, erhu, pipa, zheng, cello, percussion
《樂佛普》- 何冰頤,笛子、笙、二胡、琵琶、箏、大提琴、打擊
This composition is inspired by a childhood memory: growing up in my grand parents' house in Hong Kong, my grandmother had a daily routine chanting to a statue of a Laughing Buddha (笑佛). What I recall the figurine is a fat man with a big smile, dressed in a robe and surrounded by many adoring children. Since he represents contentment and abundance, the Laughing Buddha statue becomes a common sacred household item worshipped by many families in China regardless of their religions and differences.
Using a mixed ensemble of Chinese instruments (dizi, sheng, 2 erhu, pipa, guzheng) with percussion and Western cello, this work is written in loving memory of my grandparents to celebrate human spirit by tracing the character of a "good Buddha": poor but generous, entertaining and loving.
"Tempered Moon" – Alice Ping Yee Ho (Toronto) 7'20"
for erhu, zheng, pipa
《雍容月影》- 何冰頤,二胡、箏、琵琶
Tempered Moon depicts a poetic imaginary: under the quavering moonlight, many shadows become alive and take shapes as beautiful, seductive beings. The feeling of Moon-struck is expressed through the evocative and lyrical nature of the three Chinese instruments: Erhu, Pipa, and Guzheng. It is a musical journey of discovering love and euphoria.
composer Alice Ho talks about her work "Four Dragons", before the premiere by the Sound of Dragon Ensemble