Turning Point Ensemble 轉淚點樂團 (Vancouver) & Little Giant Chinese Chamber Orchestra 小巨人絲竹樂團 (Taiwan) 
Thursday & Friday April 5 &6, 2018 – 8pm, Annex Theatre, Vancouver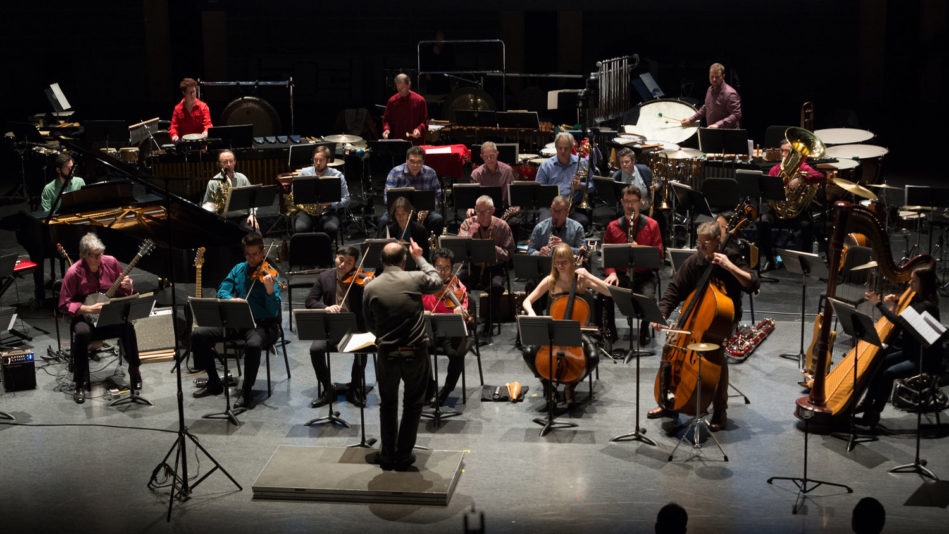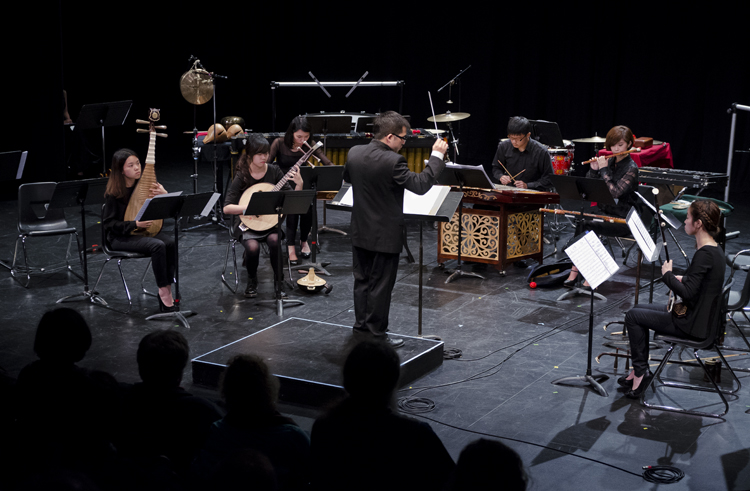 Turning Point Ensemble (Vancouver)  
The Turning Point Ensemble is a large chamber ensemble (16 instrumentalists and conductor) recognized for its outstanding musicianship. Founded in 2002 by its musician members, Turning Point has a mandate to increase the understanding and appreciation of music composed during the past hundred years, the ensemble has built a strong reputation for linking seminal 20th century repertoire to contemporary works through thoughtful programming and innovative presentations. Uniquely and flexibly sized between a small chamber ensemble and a symphonic orchestra, Turning Point Ensemble presentations offer a symphonic palette with a chamber music sensibility. Turning Point Ensemble has released four CDs with critical acclaim, including the nomination for Best Classical Recording at the Western Canadian Music Award. The ensemble has toured across Canada twice, most recently in the fall of 2015 with a program of Canadian women composers. In addition, TPE has toured within British Columbia, most recently in 2015 spring, and has been invited to perform in prestigious festivals and series including the PuSh International Performing Arts Festival, New Music Concerts Toronto, ecm+ Montreal, groundswell Winnipeg, New Music Edmonton, MusicFest Vancouver, Vancouver International Jazz Festival (upcoming), and the Modulus Festival. 
Little Giant Chinese Chamber Orchestra (Taiwan) 
The Little Giant Chinese Chamber Orchestra ("gCO") was founded in 2000 by artistic director and conductor Chih-Sheng Chen. A strong musical force in Taiwan, it represents a new generation of Chinese orchestral music. The gCO breathes new life into an art form that holds ancient roots, and devotes itself to promoting Chinese music on the world stage. The gCO offers a full season of approximately thirty concerts a year at the prestigious National Concert Hall in Taiwan, presenting both the full orchestra of over one hundred musicians and smaller chamber ensembles throughout the year. The orchestra has presented large-scale interdisciplinary projects, combining theatre and multimedia with orchestral music. Its international appearances include multiple European (including the 2007 Flying Circus Festival in Germany), South Asian and China tours (including 2008 Hong Kong International Chinese Music Festival), and three Canadian tours (including 2010 & 2015 Edmonton Chinese Music Festival, 2014 Sound of Dragon Music Festival, and 2015 Vancouver Jazz Festival). In addition, the gCO presents over 60 educational performances every year, introducing thousands of young audience to Chinese music in every city in Taiwan, including small communities off the main island. The gCO has released three CDs and one DVD.
小巨人絲竹樂團 (台灣)
2000年10月,「小巨人絲竹樂團 (Little Giant Chinese Chamber Orchestra, "gCO")」由音樂總監陳志昇集合一群熱愛國樂藝術、並具有專業演奏水準的青年樂手們籌組成立。自2002年起,與兩岸名家合作,策劃一系列「兩岸薪傳」、「絲竹室內樂」及「青年演奏家」音樂會;2007年受邀至德國卡斯魯爾市新媒體藝術中心 (ZKM, Zentrum für Kunst und Medientechnologie)演出;2008年受邀至「香港國際中樂節」演出;2010年受邀至「加拿大愛民頓中樂節」演出,並赴廣東、北京、天津等地舉辦【源自台灣】大陸巡迴演出六場次;2011年以【雲山雁邈】音樂會入圍「第九屆台新藝術獎」十大表演藝術節目,受邀赴黑龍江參加【第二屆黑龍江 中俄文化大集暨「中俄雙子城」之夏藝術節】演出,受邀於【亞洲作曲家聯盟2011年大會暨亞太音樂節】演出;2012年受荷蘭新室內樂團(Nieuw Ensemble)之邀赴荷蘭阿姆斯特丹舉辦【2012年荷蘭巡迴演出】;2013年赴杭州、南京、北京、鄭州等地舉辦【印象‧台灣-當代絲竹室內樂展】 大陸巡迴演出五場次,並受新加坡鼎藝團之邀於濱海藝術中心舉辦【寶島巨人】音樂會。2014年於溫哥華首屆龍吟滄海音樂節演出;2015年參加龍吟滄海協會與溫哥華跨文化管弦樂圖合作的加東巡演;2016年指揮陳志昇帶領數位獨奏團員與溫哥華跨文化管弦樂圖合作。2005年迄今連續獲選為中華民國行政院文建會演藝扶植團隊,並獲得教育部、國立傳統藝術中心、台北市文化局、財團法人國家文化藝術基金會等政府及民間單位的藝文經費補助,在藝術表現上備受肯定。經過十餘年的試鍊,小巨人絲竹樂團已成長為兼具演奏技術及藝術內涵的新生代樂團;深自期許在每一場策劃及演出中,均能展現台灣新生代樂手的積極熱情,為根植於傳統的國樂藝術開創嶄新的風貌。
自2003年首次公演後,擁有17名成員的Turning Point Ensemble已經成為溫哥華藝術界中不可缺少的一員。無論是音樂家們精湛成熟的表演、節目策劃的創新,以及與其他藝術領域跨界的結合,所取得的成果皆已是眾所周知。
Turning Point Ensemble曾被加拿大知名平面媒體《喬治亞海峽報》 (Georgia Straight) 評為「溫哥華最傑出的室內樂團」。該團由多位BC省最優秀的器樂演奏家組成,其使命為呈現一般音樂會上很難聽到的大型室內樂曲目,增進聽眾對過去百年來的音樂創作的瞭解和賞析,結合早期到現代的音樂,經由節目革新和傑出演出,促進加國與國際音樂作品的提昇。
透過錄音(已發行3張CD)、廣播、巡演及與國際樂團合作,該團迅速地成為加拿大最優秀的當代室內樂團之一,曾獲得加拿大「2011年力拓加鋁表演藝術音樂類首獎」(Rio Tinto Alcan Performing Arts Award)於國內及國際間聲譽卓著。
Turning Point Ensemble的演出和對藝術界的貢獻已贏得無數讚賞和認可,正如評論家John Keillor 對其之期許:「成為溫哥華樂壇中一塊經焠煉、具獨創與才華洋溢的音樂瑰寶」。